US Air Force nuclear missile unit fails safety test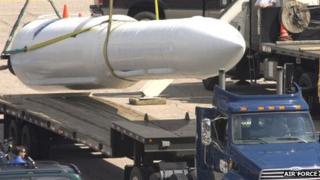 The US Air Force unit that oversees a remote Cold War-era nuclear missile installation has failed a safety test, the Air Force has said.
The 341st Missile Wing at Malmstrom Air Force Base in Montana made "tactical-level errors" in an exercise, it said.
The exercise concluded on Tuesday was meant to test the unit's ability to operate safely, the Air Force said.
But a senior Air Force commander said the failure did not indicate the US nuclear arsenal was at risk.
"These inspections are designed to be tough to pass," Lt Gen James Kowalski said in a statement. "A failure doesn't mean the wing isn't able to accomplish its mission."
On Tuesday, the Air Force revealed the 341st Missile Wing was rated "unsatisfactory" after making errors during exercises conducted during an inspection 5-13 August. As a result of the failure, the entire inspection was graded "unsatisfactory".
The Air Force did not reveal details on the exercise in question.
But Gen Kowalski told the Associated Press the airmen "fumbled" on a "small team exercise" that did not involve the crews who monitor the missiles from underground launch control capsules.
Gen Kowalski told the news agency the Air Force was weighing whether to take disciplinary action.
The unit at Malmstrom is responsible for 150 Minuteman III nuclear missiles, about a third of the nation's land-based nuclear force.
First installed in the 1970s, Minuteman III missiles now make up the US intercontinental ballistic missile arsenal.
The 341st Missile Wing is among several units involved in controlling and maintaining the arsenal, keeping a 24-hour watch ready to fire the missiles upon a presidential order.
Separately, earlier this year 17 officers at Minot Air Force Base in North Dakota were temporarily stripped of their nuclear watch authority after receiving a poor grade on the unit's mastery of the missile launch operations.