Fort Hood shootings case against Nidal Hasan goes to jury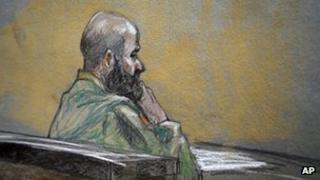 A military jury has begun deliberating in the case of a US soldier who admits killing 13 soldiers in a 2009 attack at Fort Hood Army base in Texas.
Maj Nidal Hasan, who is defending himself, made no closing statement. He has largely stayed silent, declining opportunities to question witnesses.
Prosecutors said the 42-year-old "had a premeditated design to kill".
He had tried to admit the multiple murder charges, but military rules ban guilty pleas in death-penalty cases.
The former military psychiatrist has said he carried out the attack to defend Taliban fighters in Afghanistan, but Judge Col Tara Osborn barred him from presenting that argument in court.
On Thursday, he told the judge: "The defence chooses not to make a closing statement."
Military prosecutors urged jurors to opt for a unanimous conviction on multiple counts of premeditated murder and attempted premeditated murder, which would allow them to seek the death penalty.
If Maj Hasan were to be convicted of lesser charges, execution would be ruled out.
His court-appointed lawyers, whom he has barely used, have argued he is intent on securing the death penalty in a bid for martyrdom.
Maj Hasan has refused to call anyone to the stand and questioned only three of the 90 prosecution witnesses.
If he is sentenced to die, the case will automatically go to the military appeals courts, which have overturned most death sentences they have reviewed.
Authorities say Maj Hasan entered a medical building at Fort Hood on 5 November 2009, climbed on to a desk, shouted an Islamic benediction, and opened fire with two handguns.
According to the prosecution, he fired 146 bullets.