Donald Trump hits back at 'school scam' lawsuit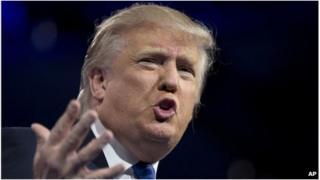 US property tycoon Donald Trump has hit back at claims in a lawsuit filed by New York state that he misled students who enrolled at his investment school.
Mr Trump said he would not settle the $40m (£26m) case "on principle", in phone interviews with ABC and NBC News.
On Saturday, New York Attorney General Eric Schneiderman said Trump University had no licence and had claimed to pass on the mogul's investment strategies.
More than 5,000 people are said to have paid over $40m to take the courses.
On Monday's US breakfast shows, Mr Trump said he had personally reviewed applications for instructors at Trump University, denying claims that he was minimally involved.
'Political hack'
"We have a terrific school," Mr Trump told ABC's Good Morning America. "It's done a fantastic job. We have a 98% approval rating among students."
He also called Mr Schneiderman a "political hack looking to get publicity". In tweets, the mogul accused the state's top prosecutor of trying to extort money from him.
Mr Schneiderman said Mr Trump never met with students, nor did he pick a single instructor for the seminars.
But the real estate investor and reality television figure denied this.
"I was totally involved to a very high degree," Mr Trump said. "I told people what to do, and if they had listened to me, it would have made a lot of money."
In 2011, the school changed its name to Trump Entrepreneur Initiative, but it has attracted complaints and some civil lawsuits from people who said it did not deliver what was promised to participants.
On Saturday, the attorney general said: "No-one, no matter how rich or popular they are, has a right to scam hard-working New Yorkers."
Prosecutors said that between 2005-11 the school charged students for courses that promised to make them rich, but were largely ineffective.