John Kerry calls for US men to be released from prison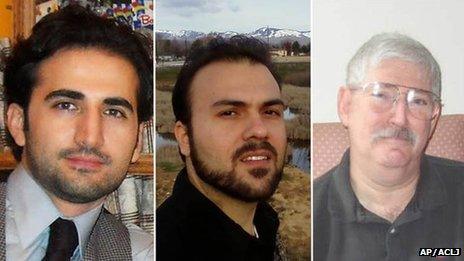 US Secretary of State John Kerry has called on Iran to release two jailed US citizens and help locate a third believed missing there since 2007.
"These men belong at home with those who love them," Mr Kerry said.
Saeed Abedini was jailed for alleged Christian proselytising and Amir Mirzai Hekmati on espionage charges the US says are false. Both are dual citizens.
Former FBI agent Robert Levinson went missing from Kish Island, off Iran's coast, in 2007.
He had been investigating cigarette counterfeiting when he disappeared.
The Iranian government has accused Mr Hekmati of being a CIA spy, a charge Mr Kerry said was false.
A former US marine, he was arrested in 2011 when he travelled to Iran to visit his grandmothers, says his family, who live in the US state of Michigan.
A death sentence penalty for Mr Hekmati was overturned last year, but he remains in prison awaiting retrial.
Saeed Abedini, an Iranian-born US citizen who most recently lived in the US state of Idaho, was jailed last year after being accused of setting up a Christian prayer network in private homes. He faces an eight-year sentence.
Mr Abedini's wife, Naghmeh, has criticised President Barack Obama for not speaking out on her husband's behalf.
Mr Levinson has appeared in images and videos as a captive, but Iran says it does not know his whereabouts and that there is no evidence he is in the country.
Analysts in the US say Iran's new president Hassan Rouhani could be open to improving relations with the US. The two countries broke off diplomatic relations in 1979.
Mr Kerry said the US was "deeply concerned" about the men.
"President Rouhani has shared in his speeches and interviews over the past few months his hope and vision to improve the Government of the Islamic Republic of Iran's relationship with the world," Mr Kerry noted in his statement.
Related Internet Links
The BBC is not responsible for the content of external sites.