Congress is torn over a military strike in Syria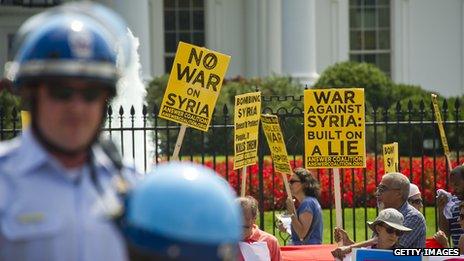 President Barack Obama is hoping the US Congress will support strikes on Syria, but lawmakers are divided on the issue.
The debate in the US Senate on a resolution authorising the use of military force has already begun, and the lower House of Representatives could hold a vote as soon as Monday 9 September, when it returns from summer recess.
Here is a selection of views from senators and representatives from both Mr Obama's Democratic Party and the Republican Party, which controls the House.
Representative Gerry Connolly, a Democrat from Virginia, says he understands the British MPs who voted against a military action.
"It's the long, dark shadow of Iraq," he says. "They got sold a bill of goods before - and it went real bad."
He says Iraq was a mistake but Syria is different. The intelligence on Syrian President Bashar al-Assad's government's use of chemical weapons is based on "multiple sources that paint a very clear picture", he says. For that reason, he believes, the US should do something.
He says Americans should draw lessons not from the war in Iraq, but from the Nato military intervention in the Balkans in the 1990s.
"Limited air strikes," he says. "And by the way, it worked."
He believes that condemning the use of chemical weapons but declining to do anything about it will embolden Mr Assad and others. He supports the president's plan to launch a military strike on Syria.
Representative Tim Walz of Minnesota opposes a military strike, illustrating that support and opposition for US action do not follow party lines.
Mr Walz has an unusual perspective: a retired senior non-commissioned officer in the national guard, he has been to Damascus with a congressional delegation - and met Mr Assad.
"He was polished and calm," says Mr Walz.
Mr Walz says Mr Assad is a difficult man to persuade. And he thinks Mr Obama's plan for a military strike is a mistake, and says the US should exhaust all available options before resorting to a military strike.
"How is the security of the US and our allies enhanced by this?" Mr Walz asks. "And what happens afterwards?"
Mr Walz said he had told his 12-year-old daughter that Mr Assad's use of chemical weapons had killed and wounded children.
"She said, 'Our bombs hurt children, too.' She asked, 'Why don't we have a plan to get the children out?'"
He said he feared US military planners were not taking sufficient care to avoid civilian casualties, especially children.
"There was a little bit on collateral damage, but it was all antiseptic military-speak," he says about a recent briefing.
"I want a better solution" than an air strike.
Senator Christopher Coons, a Democrat from Delaware, said: "Congress has repeatedly condemned and acted to outlaw the use of chemical weapons, and I believe it is in the national security interest of the US to take decisive action to respond to this attack and attempt to deter the future use of chemical weapons, whether in Syria or elsewhere in the world."
Republican Senator James Inhofe of Oklahoma said: "The Administration owes it to Congress and to the American people to lay out how they will fund their military action."
Senator Bill Nelson, a Democrat from Florida, was quoted in the Washington Post as saying: "I support the president's decision. But as far as I'm concerned, we should strike in Syria today."
Representative Peter King, a New York Republican, said: "The president doesn't need 535 members of Congress to enforce his own red line."
Democratic Senator Patrick Leahy of Vermont said in a statement: "I continue to oppose introducing US troops into this conflict, and I continue to believe that seeking congressional approval of military action is called for."
Representative Trey Radel, a Republican from Florida, issued a statement: "The administration needs to make its case, putting #AmericaFirst. They will also need to answer questions on the national security threat facing America, how we prevent our troops from getting dragged into a civil war and how we are going to prevent the loss of American lives."
Representative Mike Rogers, a Republican from Michigan, was quoted by the New York Times as saying: "This is really about the credibility of the United States of America standing up for an anti-proliferation and use of chemical and biological weapons."
Representative Ileana Ros-Lehtinen, a Florida Republican, said: "The President still has yet to articulate a clear objective, what US national interests are at stake, what our strategy will be, and what our contingency plans are for all possible outcomes. I hope these things become more clear as we debate the appropriate course of action in Syria over the coming days."
Related Internet Links
The BBC is not responsible for the content of external sites.