Ohio man confesses to drink-driving death in online video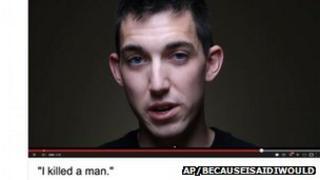 A US man has posted an online video confession in which he admits killing a man in a drink-driving accident.
In the US state of Ohio, Matthew Cordle, 22, said he accepted "full responsibility" for the death of Navy veteran Vincent Canzani, 61.
Prosecutor Ron O'Brien said Mr Cordle had been a suspect in the June crash but had not been charged.
Mr O'Brien said he would use the video as evidence to charge Mr Cordle with aggravated vehicular homicide.
The charge carries a maximum eight-year prison sentence.
"It's the most compelling video I think I have seen," Mr O'Brien told the Columbus Dispatch newspaper. "He strikes me as remorseful and sincere."
The video, posted to non-profit website becauseisaidiwould.com and directly on YouTube, begins with Mr Cordle's face blurred and his voice disguised.
He describes how after a night of drinking he drove the wrong direction on a motorway and struck Canzani's vehicle.
Canzani, who lived in Gahanna, Ohio, was a Navy submarine veteran and the father of two daughters, the Dispatch reported.
Mr Cordle's blood sample from the night of the crash tested positive for alcohol and negative for drugs, prosecutors said.
In the video, Mr Cordle said some lawyers were "convinced they could get my blood test thrown out, and all I would have to do for that is lie".
"I won't go down that path," Mr Cordle says, before his face is revealed and he identifies himself. "I won't dishonour Vincent's memory by lying about what happened."
The Columbus resident says he made the video to discourage others from driving after drinking.
"I will take that sentence for just one reason, and that reason is so I can pass this message on to you," he says towards the end of the three-and-a-half minute video.
"I beg you, and I say the word beg specifically, I'm begging you, please don't drink and drive. Don't make the same excuses that I did."
His lawyer George Breitmayer said the video was "a strong testament" to Mr Cordle's character and that he intended to co-operate with prosecutors.