New York mayoral race: If you can make it here, then what?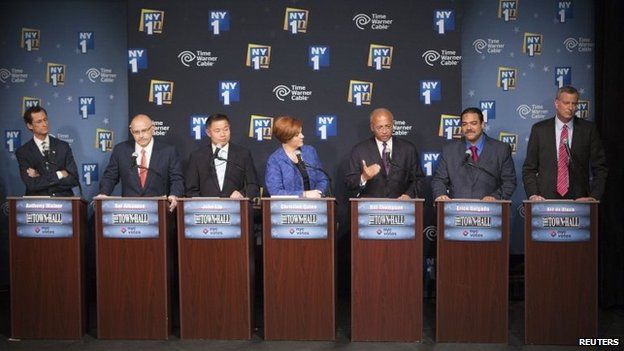 It's been called the "second toughest job in America". But the BBC's Nick Bryant says New York City mayors have an increasingly diminishing chance of taking their political profile national.
Anthony is a former congressman with a record of sending pictures of his penis to young women he has befriended on the internet.
Eliot is another one-time high-flyer who resigned from office over a sex scandal, though his, somewhat unfashionably, involved physical rather than online contact.
Christine, meanwhile, is not only seeking to become the first openly gay mayor of New York, but also the first female.
Welcome to the Modern Family politics of the New York City elections, a campaign which has lent itself as much to psychological analysis as conventional political commentary.
At times it has felt not just like an edgy sitcom, but a mash-up of an afternoon soap, a rerun of HBO's therapist-drama In Treatment, and an off-Broadway playhouse specialising in experimental street theatre.
Off the back of her fleeting fame, Anthony Weiner's sexting partner Sydney Leathers has even starred in her own porn video. Her name seems ready-made for the role.
As far as the elections are concerned, we have not yet reached the season finale. That will come in November.
But Tuesday will see the episode where the Democrats and Republicans move closer to settling on their candidates: the party primary elections.
Tellingly, the candidates who did not begin by hogging the headlines may well end up on top.
Though the early front-runner for the Democratic mayoral nomination was Mr Weiner - or "Carlos Danger", as he is now almost as well known - his campaign self-destructed when it emerged his sexting habit had continued after he had resigned from Congress and supposedly patched things up with his wife.
His appearance at a confessional news conference, at which Huma Abedin cast herself as the very good wife, was the dramatic highpoint of the campaign.
With Mr Weiner once again in disgrace, many thought Christine Quinn, the city council speaker, would sprint to the front.
But instead Bill de Blasio, a former Brooklyn council member who holds the post of New York City's public advocate, a sort of all-purpose watchdog of city government, leads the polls in the Democratic race.
So far, his only brush with controversy was his arrest while protesting against the closure of a local hospital.
In a city where the divide not just between rich and poor but also between rich and middle class seems to get bigger by the day, Mr De Blasio's proposal to tax those earning more than $500,000 (£320,000) to pay for better childcare has tweaked both populist and parental nerves.
The husband of an African-American woman, he has also promised to end the controversial "stop and frisk" policing policies, which a judge has deemed unconstitutional because they unfairly discriminate against minorities.
Not since 1989 has a Democrat won a mayoral race in New York City, which is somewhat odd given that registered Democrats so heavily outnumber Republicans.
One would have thought, then, that the Republican primary would have received more attention.
But the contest between John Catsimatidis, a supermarket mogul, and Joe Lhota, who used to run the city's transit agency, has struggled to compete for airtime with the latest viral sensation served up by Mr Weiner, whether it's a confrontation with an angry voter or the former congressman trying out his hand as a TV weatherman.
In contrast, the fight for the job of city comptroller, where Eliot Spitzer, the one-time governor of New York state and the self-styled "Sheriff of Wall Street", has been looking to make a return, has been rather staid.
Seeking a lower office after a five-year absence from frontline politics, Mr Spitzer is much more ripe for rehabilitation than Mr Weiner. Still, he faces a photo-finish race with Scott Stringer, who repeatedly has dredged up sordid details from Mr Spitzer's past.
It has been an "only in New York" sort of race - a reminder why the Big Apple sometimes feels like a city-state all of its own rather than a part of America.
It also serves as a reminder that New York politicians no longer travel well.
Changing Republican party
The commonplace has it, of course, that if you make it there, you can make it anywhere, a view popularised by Frank Sinatra.
But for a long time now, national politics has upended that idea. If you make it in New York, the chances are that you will not be politically viable at the national level.
Rudy Giuliani found that out in the Republican presidential primary race in 2008.
Despite his post-9/11 reputation as "America's Mayor", the moderate social positions that made him acceptable to New Yorkers made him unacceptable to Republican primary voters in the rest of the country.
His successor, billionaire Michael Bloomberg, sensed it, too. He explored the possibility of a run in 2012 but quickly realised he would be wasting his money.
Long gone are the days when New York state and city politics were a nursery for national office.
In the first half of the 20th Century, the road to the White House twice started out in the governor's mansion in Albany, as Theodore Roosevelt and Franklin Delano Roosevelt showed.
And Thomas Dewey, a moderate Republican who was widely expected to beat Harry Truman in the 1948 presidential race, was also a former governor.
The watershed came in 1964, with New York Governor Nelson Rockefeller's disastrous campaign for the Republican presidential nomination.
Being a recent divorcee badly damaged the scion of New York's banking dynasty, as did his remarriage to a woman known as Happy who had worked on his office staff.
Later on Rockefeller became vice-president under Gerald Ford, but tellingly he was appointed to the job rather than elected.
The larger problem for New York politicians came from the shift in America's political geography brought on by the reforms of the civil rights era.
The once-solid Democratic south became reliably Republican in presidential elections, and Rockefeller was a liberal Republican in a party increasingly dominated by conservatives.
Only four years earlier, during the 1960 campaign, Richard Nixon had been forced to make a peace deal with Rockefeller and the moderate wing of the party, which was dubbed the Treaty of Fifth Avenue.
These days, Republicans are more likely to declare war on New York elites than nominate them. The spiritual home of the Grand Old Party seems no longer to be Wall Street but the Sunbelt mega-church and the southern Nascar raceway.
"What about Hillary Clinton?" I hear you cry.
True, her only electoral office was as a New York senator, and unquestionably she is politically viable nationally.
But despite presenting herself, rather implausibly, as a lifelong Yankees fan, she is more a product of Chicago, where she was born, New England, where she was educated, Little Rock, where she spent her early legal and spousal political career, and Washington, arguably her most natural habitat.
Like Robert Kennedy, who also ran for the Democratic presidential nomination while serving as a New York senator, she was accused of being a carpetbagger. (Though a spiritual Bostonian, Kennedy spent much of his childhood in the Bronx.)
The paradox is that the most recent New York presidential potentials, Mr Giuliani, a Republican, and Mr Bloomberg, an independent, have pursued a pragmatic brand of politics that would arguably work at the national level: business-friendly, socially liberal, tough on crime and ever mindful of an electorate inclined to be antagonistic against them.
Mr Giuliani frequently deviated from his party line. Not wishing to be bound by partisan limits, Mr Bloomberg positioned himself as an independent.
On both sides of politics, New York has produced some impressive politicians over the decades, from the liberal Republican Mayor John Lindsay to the freethinking Democratic Senator Daniel Patrick Moynihan.
It has seen a string of imposing governors such as Averell Harriman, Al Smith, George Pataki and Mario Cuomo, all of whom at one time harboured presidential ambitions.
But could their modern-day successors translate success in the Empire State to the other 49? It's a question that Mario Cuomo's son and present governor Andrew Cuomo will presumably test one day.
Ultimately, though, he may confront the same problem.
When it comes to politics, what happens in New York tends to stay in New York. And that is how America likes it.
Related Internet Links
The BBC is not responsible for the content of external sites.