Canadian's phone 'scares off' polar bear attacker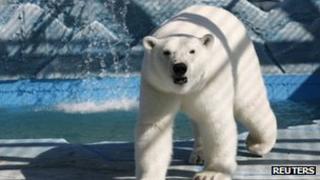 A Canadian reportedly had a lucky escape as a polar bear mauling him was apparently scared off by the light from the man's mobile phone.
The man pulled out the handset as the bear pounced on him in the coastal town of Churchill, Manitoba province.
The device's light startled the animal allowing him to flee, reports CTV News.
Churchill is dubbed the "polar bear capital of the world" because of the large numbers of the animals that pass through during autumn migration.
Mike Spence, who is mayor of the town, said the unnamed man was walking home on Saturday when the bear attacked, scratching his shirt and biting him on the back.
Conservation officials confirmed a polar bear attack on Saturday and said the animal was captured the same day.
The bear was taken to the agency's polar bear holding facility.
The last person to be killed by a polar bear in Churchill was in the 1980s, according to the mayor.