Rappers donate to US woman who lost family in fire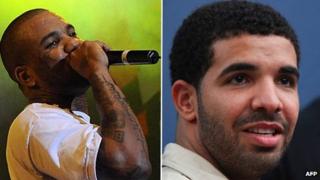 Two high-profile rappers have promised to donate $22,500 (£14,000) to help an Ohio woman whose five children and boyfriend died in a fire.
Anna Angel's four daughters and son and her partner perished early on Sunday as the apparently accidental blaze razed their mobile home in Tiffin, Ohio.
A family spokesman said musician The Game called Ms Angel to offer help from himself and fellow rapper, Drake.
Community members already have raised about $16,000 for the family.
"It's just never right when they leave the earth early," The Game told the Associated Press news agency on Wednesday. "They shouldn't make caskets that small."
'Extremely grateful'
Ms Angel, 30, was on shift at a Burger King where she works when she heard about the fire. She rushed home on her bike.
A funeral for the children will be held on Thursday. The Toledo Blade newspaper reports that Ms Angel went to hospital to identify her children, who were aged one to six. Their funerals are to be held on Thursday.
Her boyfriend, Timothy Fresch, was 25.
The Game phoned Ms Angel on Tuesday at her place of work to offer help, said Keith Hodkinson, a family spokesman.
The recording artist said he and fellow rapper Drake, a Canadian, each wanted to donate $10,000. He asked what else she needed, said Mr Hodkinson.
When the rapper was told that she did not have a car, he added $2,500 to the donation from the producers of his reality television show, Marrying The Game.
Mr Hodkinson said: "She's extremely grateful, touched. But she's still in shock."