Colorado flood death toll rises, amid oil spills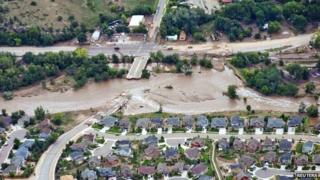 The death toll from historic flooding that hit Colorado last week has risen to seven people, as the state faces 10 oil spills caused by the deluge.
Colorado's oil agency said it was tracking two "notable" and eight minor spills across the flood area.
Three other people are missing and presumed dead after a week of heavy rains were capped by flash-flooding.
Residents in one town completely cut off by water were allowed back on Thursday for a short period of time.
Under tight security, evacuees in Lyons were given just two hours to check on their homes and leave.
Teacher's fatal decision
The town had been cut off after the St Vrain river overtopped its banks on 9 September, destroying dozens of homes, a trailer park, two town bridges and sections of the only road in and out of the community of 1,600 people.
"We're a little anxious," Gloria Simpson told the Associated Press news agency as she waited in a long line of vehicles to return to Lyons. "We've never gone through something like this before."
A seventh fatality of the flood was found near the town, said a spokeswoman from the Boulder County emergency management office.
The latest victim to be named was Gerald Boland, an 80-year-old retired teacher.
He took his wife to safety a week ago and then tried to get back to their home amid the flooding, despite official evacuation orders.
Three others from neighbouring Larimer County are presumed dead after their homes were washed away by water rushing out of canyons.
'Major health issue'
The number of persons unaccounted for has dropped to about 200, down from a high of 1,200, as telephone and internet service is slowly restored to some areas.
Officials from the Colorado Oil and Gas Conservation Commission (COGCC) said they were trying to assess the damage from oil and gas spills in the north-central area of the state.
Both notable spills were from storage tanks owned by Anadarko Petroleum Corporation.
Some 125 oil barrels (5,250 US gal) spilled from a tank south of the town of Milliken and another Anadarko storage tank near the St Vrain river released 323 barrels.
"In both cases, it appears the oil left the site in floodwaters," COGCC said in a statement, despite Anadarko's attempt to deploy absorbent booms around the tank near Milliken.
Both releases involved condensate, a mixture of oil and water, according to Environmental Protection Agency spokesman Matthew Allen.
Contaminated ground?
Colorado Representative Jared Polis called the spills a "major public health issue".
"In light of the serious conditions on the ground, the industry, at a minimum, must disclose all chemicals that may be contaminating soil and groundwater," he said.
The state has seen a smaller version of a region-wide energy boom from hydraulic fracturing, also known as fracking, which uses millions of gallons of water, chemicals and sand pumped deep underground to fracture shale rock deposits that hold vast amounts of oil and gas.
Large amounts of that water returns to the surface and is stored in the kind of tanks that have been seen floating away in the Colorado floods.
Nearly 1,900 oil wells were initially shut down by the flood, with 300 now back online.
Vice-President Joe Biden and his wife, Jill, will survey recovery efforts in Colorado on Monday.