Crashed Canadian helicopter found in Arctic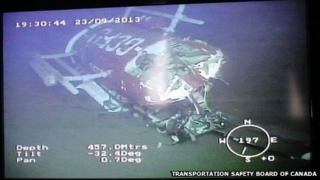 A Canadian Coast Guard helicopter that crashed into Arctic waters, killing all three aboard, has been found.
But ice and weather conditions in the M'Clure Strait in Canada's far north will pose "a significant challenge" to the recovery operation, officials said.
It was found submerged in about 450m (1,475ft) of water by an unmanned submarine.
The helicopter, travelling with the icebreaker vessel Amundsen on an ice survey, crashed on 9 September.
The cause of the helicopter crash has yet to be determined.
The Amundsen lost contact with the helicopter on 9 September when it was scouting the sea ice to determine the best route for the ship.
When the ship arrived at the scene of the crash, crew members found the bodies of the three men - Amundsen commander Marc Thibault, Coast Guard pilot Daniel Dube and arctic scientist Klaus Hochheim - in the frigid water. All wore standard-issue orange survival suits.
A preliminary autopsy found the men had died of hypothermia.
The men were said to have been in the Arctic water for roughly an hour before their bodies were retrieved, local media reported.
On Tuesday, Canada's Transportation Safety Board said it was working alongside the Canadian Coast Guard and a consortium of Arctic scientists to raise the wreckage.
Two large icebreaker vessels have been sent to the scene to aid in the effort, according to local media reports.