ATF 'lost 420m cigarettes' in churning investigations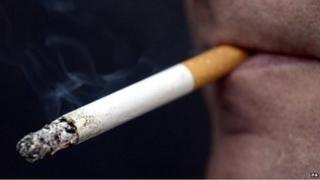 The US agency tasked with stopping illegal tobacco trafficking lost track of 420 million cigarettes purchased in undercover operations, justice department auditors have found.
In addition, agents with the Bureau of Alcohol, Tobacco, Firearms and Explosives (ATF) made $162m (£100m) selling tobacco undercover, it found.
That money was used to fund undercover operations between 2006-11.
The findings were revealed in an audit of the ATF's use of undercover profits.
In the report released on Wednesday, the justice department Office of the Inspector General (OIG) said it had found "a serious lack of oversight" of "churning investigations".
In those, the ATF uses proceeds from undercover operations to offset expenses incurred in the same operations, rather than depositing the funds in the US treasury.
The ATF received that churning authority in 2004.
ATF managers often disregarded policies on the churning investigations and failed to account properly for assets purchased during undercover operations, Inspector General Michael Horowitz wrote in the audit.
In one unauthorised churning investigation, agents sold approximately $15m worth of cigarettes over 18 months. A confidential informant in the case was allowed to keep more than $4.9m "to cover his business expenses", according to the audit.
The ATF also purchased 9.9 million cartons of cigarettes during the course of 20 investigations examined by the inspector general's office, but "inadequate documentation" led to the loss of 2.1 million cartons, or 420 million cigarettes, valued at $127m.
ATF Director Todd Jones told the Associated Press news agency the federal body, which operates under the justice department, had already tightened internal guidelines.
"The report's findings do not reflect current ATF policy or practice in this area," he said.