Canada's population tops 35 million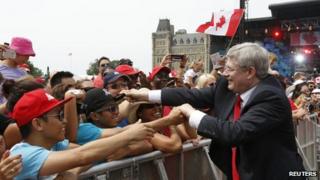 The population of Canada rose to more than 35 million in the last year, according to a new official estimate.
A newly released report by Statistics Canada based on 2011 census data showed a 1.2% increase over the previous year.
The province of Alberta saw the fastest growth at 3.4%, which the agency put down to international and interprovincial migration. Nova Scotia and New Brunswick shrank in population.
Canada's total growth rate from 2006-11 eclipsed those of both the US and UK.
As of 1 July, the nation's population was estimated at 35,158,300, up 404,000 from the year before, according to the Statistics Canada report released on Thursday.
Canada's rate of growth has "shown little variation in 30 years", largely remaining between 0.8% and 1.2% per year, the agency said.
But over the period between 2006-11, the country reported a 5.3% growth rate, which far exceeded the 3.4% growth seen in the US and UK as well as a 0.8% decline in Germany.
Several other industrialised nations - including Luxembourg (8.7%), Ireland (7.8%) and Australia (7.6%) - reported higher population growth rates, however.
Since 1983, the population of Ontario was found to have grown almost twice as rapidly as that of Quebec. But among the provinces, Alberta was at the top with an increase of 50.8%.
As of July, three-quarters of Canadians lived in just three provinces: Ontario (38.5%), Quebec (23.2%) and British Columbia (13%), according to the report.