Tunisian Nizar Trabelsi extradited to US on terror charges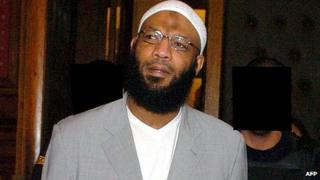 A Tunisian man jailed in Belgium in 2003 for planning to attack a Nato air base has been extradited to the US to face further charges.
Nizar Trabelsi faces several charges linked to the same plot including conspiring to kill Americans abroad, a US indictment shows.
Trabelsi, who used to play professional football in Germany, pleaded not guilty at a court in Washington DC.
The indictment says Trabelsi met al-Qaeda leader Osama Bin Laden in 2001.
Trabelsi, now 43, was arrested in Belgium two days after the 11 September 2001 attacks on the US.
In 2003 he was convicted by a Belgian court of plotting to blow himself up at the Kleine Brogel base, which housed US soldiers.
He was imprisoned in Belgium until his extradition.
He now faces charges in the US of conspiring to kill Americans abroad, conspiring to use weapons of mass destruction and supporting a foreign terrorist organisation.
If convicted, he faces a maximum sentence of life in prison.
'Trained for jihad'
Trabelsi's extradition was requested by Washington in November 2008.
He had been indicted two years earlier by a grand jury in the US District Court in Washington DC.
According to the indictment, Trabelsi had prepared to travel to Afghanistan to train for jihad while living in Germany in 2000.
He met Bin Laden in Afghanistan in early 2001 and, at his direction, later spoke with al-Qaeda's chief military planner Muhammed Atef, the indictment says.
Trabelsi had strongly resisted extradition to the US, fearing "inhumane" treatment.
His last appeal was rejected on 23 September by the Belgian Council of State, the country's highest administrative court.
Justice Minister Annemie Turtelboom was quoted as saying by the Belga news agency that Brussels had received "assurances from US authorities" that he would be tried by a civil court rather than a military tribunal and would not be sentenced to death if convicted.