Obamacare has hidden benefits - for India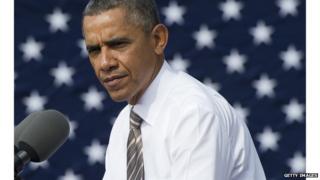 Republican opposition to President Barack Obama's healthcare law is at the heart of the government shutdown in the US. The same law is creating new jobs and business, thousands of miles away in India.
As millions of Americans are encouraged to enrol in health insurance plans under the new system, executives in India's generic drug and software industries foresee an upswing in business. Nearly 40% of the generic drugs used in the US now come from India, and industry insiders say sales will grow as the reforms collectively known as Obamacare roll out.
Muralidharan Nair of Ernst and Young says Obamacare envisages savings of $150bn (£935m) per year from drug cost reductions. That is also the size of opportunity for people who work in the industry.
"Obamacare will be a harbinger of a tectonic change in the way generic consumption is going to happen in the US, and India stands to gain significantly," says Mr Nair.
He forecasts a year-on-year growth of 25-30% in the generic drug industry in India, already branded as "pharmacy to the world".
'Zero' cost
Experts say generic drugs are pivotal to the success of the new healthcare system. That is because nearly 90% of patients in the US have some kind of co-payment on their insurance, which encourages them to take lower-priced generics rather than brand-name drugs.
"If you move to generic drugs, the out-of-pocket cost drops to zero in many cases," says Kavita Patel, a former advisor to the Obama administration on health reforms and now with the Brookings Institute.
"A generic medicine for cholesterol can be as low as $4 a month compared to $300 a month for a branded one."
Doctors in the US are now encouraged to switch to generics where appropriate.
"When people go to a pharmacy with a paper prescription, the pharmacy will ask the doctor if they can switch it to a generic," says Ms Patel.
On the electronic health records, used by nearly half of the country, generic alternatives pop up when the doctor enters a brand-name drug into the pharmacy computer system.
US regulators' scrutiny
The challenge for Indian industry is also to maintain the quality that meets US standards, as there's a huge perception barrier associated with generics - many fears generics are of lower quality.
To change the perception and to ensure quality, the US Food and Drug Administration (FDA) has stepped up its presence on the ground in India.
This March, India allowed the FDA to add seven inspectors, which will bring its staff in India to 19. In the past few months, Indian drug makers have been hit by enforcement measures or inquiries.
Several manufacturing plants, including that of pharmaceutical giants like Ranbaxy, have been penalised for lapses. This has unnerved investors.
After the FDA's "import alert" against Ranbaxy, the company's share plummeted nearly 30%, the biggest fall since 1991. Shares of another company, Wockhardt, fell as much as 79% after a similar FDA alert.
While some complain the FDA's strict monitoring is needlessly harsh, some analysts say the scrutiny will ultimately bolster quality and confidence in Indian drugs.
"India has to be paranoid about zero tolerance for lapses," says Mr Nair of Ernst and Young. "Compliance should be non-negotiable."
The Indian IT industry is also expecting a many-fold increase in business. Indian companies that make specialised software and analytics for global healthcare providers are already recording a jump in business.
More than 30 million American citizens will be part of the new healthcare system and this will mean a huge change in technology.
Ed Nair of Dataquest magazine foresees a total re-engineering of the healthcare provision system.
"All of this requires a whole lot of systems to be deployed - and a whole lot of people to be deployed, which presents a huge opportunity for India," he says.