Detroit ex-Mayor Kwame Kilpatrick sentenced to 28 years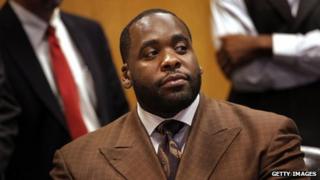 The former mayor of the US city of Detroit has been sentenced to 28 years in prison for corruption.
Kwame Kilpatrick was convicted in March on two dozen counts including racketeering, fraud and extortion.
Kilpatrick served as mayor of the now-bankrupt city from 2002-08, when he resigned after lying under oath in a lawsuit, later approving an $8.4m (£5.3m) settlement to cover it up.
Eighteen other officials were convicted of corruption during that period.
Kilpatrick was ordered to pay $1m to the city of Detroit after pleading guilty to charges of obstruction of justice in 2008.
But he was later accused of hiding assets and told a judge he could only afford to pay $6 a month in restitution.
'Send a message'
Prosecutors also charged a city contractor and friend of Kilpatrick's, Bobby Ferguson, with corruption, alleging he illegally received $73m in city contracts with Kilpatrick's help.
Ferguson was convicted on nine counts and is scheduled to be sentenced on Friday.
Kilpatrick's dealings as mayor - including brokering a $1.44b deal in 2005 to restructure Detroit's pension liabilities - have been blamed for driving the debt-ridden city into bankruptcy.
Officials also allege Kilpatrick spent $840,000 beyond his salary during his tenure as mayor.
Kilpatrick's defence counsel claimed the funds were gifts from political supporters, according to media reports.
"A man with the charisma and ability of Mr Kilpatrick chose to use his talents on personal aggrandisement and enrichment when he had the potential to do so much for the city,'' Judge Nancy Edmunds said before imposing the sentence in a Michigan federal court on Thursday.
"At the very least, a significant sentence will send a message that this kind of conduct will not be tolerated."