Malala Yousafzai meets Obamas at White House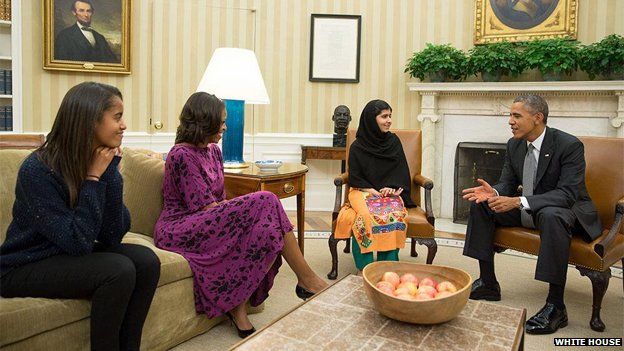 US President Barack Obama and First Lady Michelle Obama have met Pakistani schoolgirl campaigner Malala Yousafzai in the Oval Office.
The Obamas thanked Malala, 16, who was shot in the head last year by the Taliban, for her "inspiring and passionate work" for girls' education.
The Obama's 15-year-old daughter Malia also attended the meeting.
The White House said the US celebrated Malala's courage and determination to promote girls' right to attend school.
"As the First Lady has said, 'Investing in girls' education is the very best thing we can do, not just for our daughters and granddaughters, but for their families, their communities, and their countries'," the White House said in a statement.
On Thursday, Malala was awarded the EU's Sakharov human rights prize. Although she had been tipped for the Nobel Peace Prize, on Friday that went to the Organisation for the Prohibition of Chemical Weapons, the body overseeing the destruction of Syria's chemical arsenal.
A native of Pakistan's mountainous Swat Valley, Malala rose to prominence in 2009 after writing an anonymous blog for the BBC Urdu service about her life under Taliban rule and the lack of education for girls.
Her name became internationally known after the Pakistan army pushed the Taliban out of the area in 2009.
The Taliban's Islamist doctrine puts harsh restrictions on women's rights and one of the militants shot her last year as she was riding in a bus with school friends.
After the attack, she was flown to the UK for medical treatment and now lives in Birmingham, where she is going to school.