Canada PM's office evacuated over suspicious package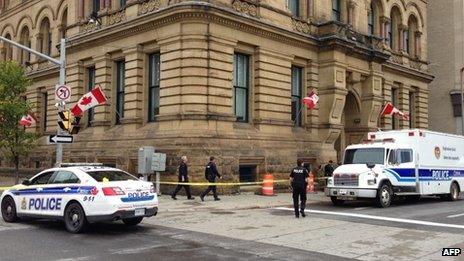 An Ottawa building housing the Canadian prime minister's office was evacuated and a bomb squad called in after a suspicious package was left there.
The street outside was closed to traffic while a robotic probe was sent in to investigate and then "rendered the package safe", police said.
A man was arrested at the scene, but police gave no further details.
PM Stephen Harper was not in his office in Langevin Block at the time, but across the road in parliament.
The incident came hours before a speech setting out proposed legislation for the next parliamentary session was due to be delivered in the Senate.
CBC news said the package that was reported inside the Langevin Block building was the size of a briefcase.
Chuck Benoit of the Ottawa police told AP there had been a commotion and a package was left and that the suspect said he would "do something".
However Mr Benoit could not say whether the man had threatened the prime minister.
The Ottawa Citizen newspaper said photos tweeted from the scene showed a man in white robes and cap being held in the back of a police vehicle.
The building was later reopened and staff were allowed back in.
Police did not say whether the package was dangerous or what it contained, CBC said.
Related Internet Links
The BBC is not responsible for the content of external sites.