The Snowden effect on US diplomacy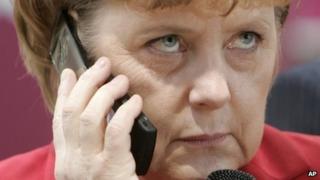 On Wednesday evening the White House was supposed to host one of the most lavish events on Washington's social calendar - a state dinner for a visiting VIP.
It ended up being cancelled - not because of any lingering effects from the partial shutdown of the federal government. Nor was President Barack Obama called away on urgent business.
Rather, the guest of honour announced last month that she would not be attending. Brazilian President Dilma Rousseff was aggrieved that her private communications had apparently been snooped upon by American intelligence.
In cancelling her state visit, she was making a pointed personal and national protest.
On Wednesday afternoon, rather than preparing to welcome one of America's allies to the White House, Mr Obama found himself listening to grievances from another. German Chancellor Angela Merkel called to complain that her private mobile had been tapped.
The president's spokesman assured the news media that the National Security Agency (NSA) "is not monitoring and will not monitor" her phone. But he was unable to tell her that it had not listened to her calls previously.
His inability to speak in the past tense was tantamount to an admission that the NSA was guilty as charged.
Bugging development
The "Snowden effect" has created an ever angrier diplomatic backlash. The secrets that the former NSA contractor Edward Snowden took with him when he left America are causing ructions around the world.
On Monday, it was French President Francois Hollande who complained to Mr Obama about the vast surveillance operation the NSA had allegedly conducted against political and business figures in France.
Mexico is annoyed that their president, Enrique Pena Nieto, and his predecessor Felipe Calderon, had been snooped upon. America has also been accused of bugging the United Nations and European Union.
The latest allegations, published in Britain's Guardian newspaper, are that the phone conversations of 35 world leaders have been monitored.
Doubtless, some of the outrage from aggrieved allies is intended for domestic consumption. And it is hardly as if America is the only country to spy on its allies.
But as the list of wronged friends grows by the day, the Snowden effect is not just complicating US diplomacy but also seriously compromising it.
When Secretary of State John Kerry touched down in Paris this week he was confronted by the spying allegations published in that morning's Le Monde.
On the day Angela Merkel challenged her American counterpart, two senior Obama administration officials were in Berlin for talks on a new transatlantic trade deal called the biggest such agreement in history.
For the Obama administration it is not merely a case of smoothing some ruffled feathers. Daily, it needs to put out diplomatic fires. And, increasingly, the damage looks as though it could be lasting.
Damage limitation
Consider the impact on the personal relationship between Barack Obama and Angela Merkel, which up until now has been close.
"Spying among friends is not on," complained the German Chancellor at the EU Summit in Brussels. "Trust will now have to be rebuilt."
Nor is it merely the NSA revelations that are hampering US diplomacy. This week John Kerry has been trying to allay Israel's concerns about America's openness to the recent overtures from the new Iranian President Hassan Rouhani.
Saudi Arabia, its other main strategic ally in the Middle East, has also been dismayed that Washington has warmed towards Tehran.
Fuelling its anger is what Prince Turki al-Faisal, a member of the royal family and former director of Saudi intelligence, this week described as the Obama administration's "lamentable" policy towards Syria.
Riyadh's decision this month not to take up its seat on the UN Security Council was intended to send a message to the US, not the UN. Jordan and the United Arab Emirates have similar misgivings over the president's failure to intervene more strongly in Syria's civil war.
Further afield, America is confronted by problems of its own making. Less than two years after announcing Washington's much-vaunted "Asian pivot," the federal shutdown prevented Mr Obama from attending the key annual gathering of Asia-Pacific leaders. Instead, China was left to take centre stage.
To argue that the NSA scandal threatens to damage Barack Obama in the same way that the Iraq War undercut George W Bush is surely too strong.
The Bush administration's hyper-unilateralism and wilful disregard for the views of longstanding allies caused deep resentment in Europe.
But this is turning out to be a major embarrassment for a president who entered office in 2009 determined to repair frayed relations with some of its longstanding allies, like France, and to restore America's international standing.