Obamacare: US will reach out to discouraged insurer seekers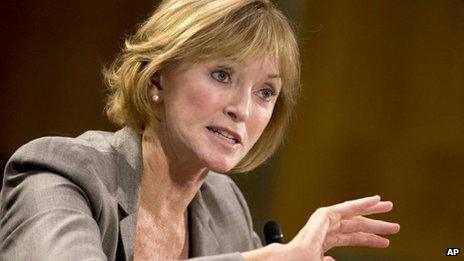 A US health official has told a Senate panel the US will reach out to those who could not sign up for coverage on its troubled insurance website.
Marilyn Tavenner said the Obama administration would first "stabilise" the website, a major part of President Barack Obama's 2010 healthcare law.
The site has been plagued by glitches since its 1 October launch, preventing some from enrolling.
Obama administration officials have apologised for the technical troubles.
But they have done so while expressing confidence in the larger healthcare law.
The Patient Protection and Affordable Care Act, often called Obamacare, was Mr Obama's push to extend health insurance to the estimated 46 million Americans who lacked it.
It established the healthcare.gov website as a clearinghouse for Americans to enrol in private insurance plans.
The federal and state-run websites had been projected to enrol seven million uninsured Americans in the first year.
The law also bolsters coverage requirements for insurance firms, mandates that individuals carry insurance or pay a tax penalty, and offers subsidies to assist in the purchase of the insurance.
And it expands eligibility for the Medicaid government health programme for the poor.
On Tuesday, Ms Tavenner, head of the Centers for Medicare and Medicaid Services, told the Senate Committee on Health, Education, Labor, and Pensions that the website was able to process nearly 17,000 registrants per hour with almost no errors. But the day before, healthcare.gov went down for 90 minutes.
The Obama administration has refused to say how many people have successfully enrolled in insurance through the sites. Ms Tavenner said those numbers would be available in mid-November.
Both Republicans and Democrats have expressed dismay over the website's troubled rollout.
Republicans view the health law as a costly and inappropriate government intrusion into the healthcare system, and have sought to undo or undermine it at every turn.
On Tuesday, Democrats worried the issues would torpedo public opinion of the law.
"There's been fear, doubt and a crisis of confidence," Democratic Senator Barbara Mikulski said.
"What I worry about is that there's such a crisis of confidence that people won't enrol."
Ms Tavenner said that the administration would soon begin a four-month-long media campaign in specific areas aimed at bringing uninsured Americans back to the website.
"Our goal is to stabilise the website this month and then we do have a targeted plan that includes not only young people but the large populations of the uninsured," Ms Tavenner said.
The health official also faced questions over a wave of cancellations of existing insurance policies.
During his extended campaign for the law's passage, Mr Obama pledged that Americans who were satisfied with their insurance would be able to keep it under Obamacare. But in recent weeks, hundreds of thousands of Americans have received notice their insurance companies were cancelling their plans because they did not meet the law's coverage requirements.
Republican Senator Lamar Alexander asked if the Obama administration would support legislation to allow Americans with individual coverage to keep their existing plans.
Ms Tavenner said she could not take a position on the bill because she had not read it, but said her office was looking into ways to guide those with cancelled or changed plans toward the most affordable alternatives, including plans offered by the exchanges.
Democrats argue those affected have not been given a full picture of how to best change their insurance, including by taking advantage of government subsidies to aid in the purchase of new insurance.
A study released on Tuesday from the non-partisan Kaiser Family Foundation estimated the potential size of the online-based insurance marketplace to be almost 29 million people across the US.
The study said three-fifths of those customers - more than 17 million people - are eligible for the subsides.
Related Internet Links
The BBC is not responsible for the content of external sites.