Obama promotes embattled healthcare law in Texas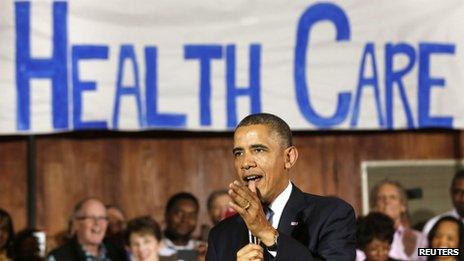 US President Barack Obama has ventured into the heart of Republican territory to tout his embattled healthcare law, seeking to reassure supporters wary over its troubled rollout.
"We are going to get this done," he told a crowd in Dallas, Texas.
His promise comes amid pressure - even from his fellow Democrats - to delay parts of the law or take its website offline until it can be repaired.
Texas Governor Rick Perry said the law was bound for a "Titanic fate".
On Wednesday, Mr Obama addressed a crowd of supporters at a Dallas synagogue, Temple Emanu-El, and acknowledged that glitches on the healthcare.gov website, the federal insurance marketplace created under his signature healthcare law, were "frustrating".
"I'm the first to say that the first month I've not been happy with," he said of the website, which launched on 1 October.
"Nothing drives me more crazy than the fact that right now, there's great insurance to be had out there, choice and competition, where people can save money for a better product, except too many folks haven't been able to get through the website."
'Ill-conceived and unpopular'
Healthcare.gov - akin to a shopping website for health insurance plans - has been plagued with problems, especially long wait times to sign up for an insurance plan and serious flaws on the back end where customers' data are processed and sent to insurance companies.
"This is like having a really good product in a store, and the cash registers don't work and there aren't enough parking spots and nobody can get through the door," he said. "And so we are working overtime to get this fixed."
By the end of November, he said, "you're going to have families all across this great state of Texas who are going to have the security and the well-being of high-quality, affordable health insurance."
Mr Perry, a hard-line conservative who ran for the Republican Party presidential nomination in 2012, called Mr Obama's trip to Texas "a desperate attempt to salvage his ill-conceived and unpopular programme".
The governor added that his state needed "flexibility" to implement specific reforms rather than a "one-size-fits-all Washington mandate".
Mr Perry, like many other Republican governors, declined the option under the law of setting up a state insurance website, forcing Texas residents to rely on the federal healthcare.gov site.
The 1 October launch of the insurance marketplace websites run by the federal and state governments was the culmination of more than three years of political combat in Washington over the Patient Protection and Affordable Care Act, signed into law by Mr Obama in 2010 and known to both sides as Obamacare.
Aside from establishing the healthcare.gov medical insurance marketplace website and others run by the states, the law bolsters coverage requirements for insurance firms, mandates that individuals carry insurance or pay a tax penalty, and offers subsidies to assist in the purchase of the insurance.
It also expands eligibility for the Medicaid government health programme for the poor. However, Texas - like many other states governed by Republicans - has refused to expand its Medicaid programme, rejecting federal funds provided under the law to do so.
Ongoing issues with the website have shaken political confidence in the endeavour.
Earlier on Wednesday, Senate finance committee chairman Max Baucus, a Democrat, suggested the Obama administration take down the healthcare.gov marketplace until the kinks had been smoothed out.
Mr Baucus, a supporter of the health law, suggested that would limit the negative press coverage.
But Mr Obama's Health Secretary, Kathleen Sebelius, told the panel such an action "wouldn't delay people's cancer or diabetes or Parkinson's".
Ms Sebelius did acknowledge that the site required hundreds of repairs and that further work was needed before it was fully operational.
"We're not there yet," she said.
Even as the technical problems have limited Americans' ability to sign up for new health coverage under the law, many other people have been informed that insurance plans they already held were being cancelled because they did not meet the new law's stringent requirements.
Mr Obama had long insisted that people would be able to keep insurance plans they liked.
Republicans have seized on that, with some going as far as to accuse Mr Obama of lying to the public during his campaign for the law's passage.
"President Obama deceived the American people by promising that anyone who liked their health care plan could keep it, but millions of Americans are now discovering that simply isn't true," Mr Perry said in a statement.
The Obama administration has declined to say how many Americans have actually enrolled in new policies through the websites, rankling Republicans who accuse it of withholding vital information.
Republicans view the health law as a costly and inappropriate government intrusion into the healthcare system, and have sought to undo or undermine it at every turn.
And they argue the website's problems ongoing reflect broader issues with the healthcare law.
Related Internet Links
The BBC is not responsible for the content of external sites.