Renisha McBride, 19, was shot in face by Detroit homeowner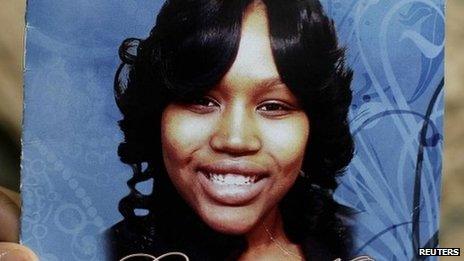 A black woman whose fatal shooting by a US homeowner has prompted claims of racial profiling was shot in the face, a post-mortem examination found.
Renisha McBride, 19, received fatal injuries on the front porch of a home in Detroit, Michigan, on 2 November.
Her family says she was disoriented and looking for help after having just been involved in a car crash nearby.
The homeowner said he had feared a burglary, but civil rights leaders are demanding justice.
Prosecutors say they are reviewing whether to charge the unidentified 54-year-old, who told police he fired his shotgun accidentally.
A lawyer for the man said he was "torn up" by McBride's death, but that he had feared for his life at the time.
Michigan is one of several US states with a so-called stand your ground law, which allows the use of deadly force if a person feels their life is in danger, though it is unclear whether that will be argued in this case.
A post-mortem examination report released on Monday confirmed that McBride had been shot in the face, but not at close range.
The Wayne County medical examiner's office report has ruled her death a homicide.
She was shot as she stood on the porch in the predominantly white Dearborn Heights area shortly before 04:00 local time (09:00 GMT) on Saturday 2 November.
The Detroit Free Press reported that a car registered to McBride's family had been involved in a collision with a parked vehicle just over two hours before the shooting, a few streets away.
It is unclear what happened in the intervening time.
McBride's relatives have called for a thorough investigation into the shooting.
"It's hard to... believe it's an accident when a gun is in her face and the trigger is pulled," family lawyer Gerald Thurswell told the Detroit News on Friday.
The case has attracted the attention of civil rights leader the Reverend Al Sharpton, the National Association for the Advancement of Colored People (NAACP) and Michigan congressman John Conyers.
On Saturday, about 200 people showed up at a rally organised by Mr Sharpton's National Action Network.
Related Internet Links
The BBC is not responsible for the content of external sites.