'Obamacare' dragging down president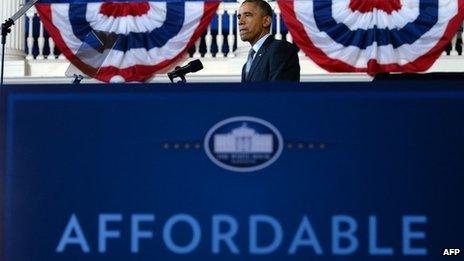 President Obama's signature achievement, the Affordable Care Act, is causing him massive political trouble.
Democrats from Congress, in what's been described as a heated meeting at the White House, have demanded change.
And Bill Clinton has weighed in, suggesting the law needs to be altered.
This is significant. It is one thing if your enemies attack you. If your allies join in because they are frightened it will damage them and their cause, it is quite another.
The Obama administration is putting a brave face, and a strong spin, on the latest figures on the law, commonly known as Obamacare, in action.
More than 106,000 Americans have signed up for insurance coverage. That's a lot better than the 50,000 that "administration officials" predicted earlier this week. It is a lot worse than the half a million they predicted at the beginning of the process.
Health Secretary Kathleen Sebelius is naturally putting a positive gloss on these numbers, saying the report shows the numbers will grow and Obamacare is working.
The department says the website should be working properly by the end of the month and its error rate is down to 1%.
The president has to hope that this is the case and these early bumps are soon forgotten.
I am not sure that this is so.
I went on Maryland's insurance marketplace website recently and it worked just fine - but the options on offer are complex and, to me at least, bewildering.
If I was doing it in earnest I would have to take a full day at least to make sense of it.
I felt a bit better after talking to a well-known historian, hugely intelligent. He too was pretty baffled by the options on offer. Luckily his wife has worked in healthcare administration all her life and she just about got it.
You know that American coffee shop experience?
When you think you have told them what you want and grown weary of picking the sort of milk, the size, the flavour and just wish they would give you the blessed coffee? It is a bit like that, to the power of 100.
In bending over backwards to avoid a government scheme, in order to offer as much free market choice as possible, the administration has come up with something that feels pretty messy.
There is little doubt that Obamacare will be this president's main domestic legacy, for good or ill.