US offers $10m bounty for Benghazi attackers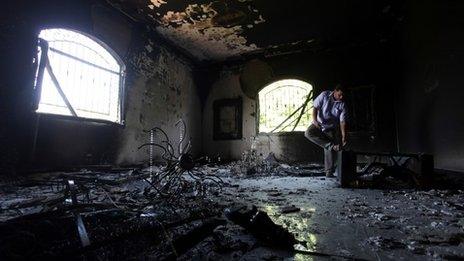 The US has been quietly offering as much as $10m (£6.2m) since January for information about the attack on a diplomatic post in Benghazi, Libya.
The state department confirmed the reward in a letter to a Republican lawmaker who questioned them about it.
The appeal had not been published on its Rewards for Justice site because of security concerns, the department said.
Four Americans, including the US ambassador to Libya, died in the attack on 11 September 2012.
Republicans in Congress have accused President Barack Obama and the state department of initially playing down the attack, as well as lax security at US diplomatic outposts.
"Due to security issues and sensitivities surrounding the investigation, the event-specific reward offer has not been publicly advertised on the RFJ website," the department said in a statement. "RFJ tools can be utilised in a variety of ways, without publicising them on the website."
A state department official told the Associated Press news agency such a move to not publicise the information was unusual, but investigators could make sure the offer is known about "as needed".
The reward is available for those coming forward with information that leads to the arrest or conviction of any individual involved in the attacks.
The attack against the US consulate - which resulted in the death of Chris Stevens, another state department worker, and two former Navy Seals - was originally said to have grown out of violent anti-American protests sparked by an anti-Islam film produced in the US.
It was later revealed to have been an organised, pre-planned assault by militia forces.
The US filed charges against a Libyan militia chief, Ahmed Abu Khattala, in August and an unknown number of other alleged attackers have also been charged.
The state department has not said if they have awarded any money for information.
Related Internet Links
The BBC is not responsible for the content of external sites.