Duke lacrosse accuser Crystal Mangum guilty of murder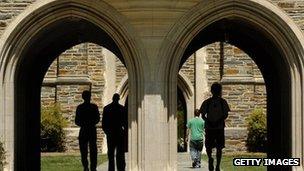 A black US woman who falsely accused three white Duke University athletes of rape in 2006 has been convicted of stabbing her boyfriend to death.
In the state of North Carolina, Crystal Mangum was found guilty of the second-degree murder of Reginald Daye, 46.
Mangum, now 34, was hired to perform as an exotic dancer at a party for the Duke lacrosse players, later accusing three of gang-raping her.
The athletes were cleared after Mangum's story fell apart.
On Friday, Mangum was sentenced to up to 18 years in prison for stabbing Daye on 3 April 2011.
He died 10 days later from his injuries.
Privilege and entitlement
During the eight-day trial in Durham, North Carolina, Mangum acknowledged she "poked" Daye in the chest with a steak knife but claimed she acted in self-defence during an altercation.
Assistant District Attorney Charlene Franks told the jurors the evidence did not corroborate Mangum's account.
"It did not happen the way the defendant said it happened. No, not at all," he said, according to the Charlotte Observer.
In 2006, Mangum attended an off-campus party for the lacrosse team at which she was hired to perform as a stripper.
Later, Mangum accused Reade Seligmann, Collin Finnerty and David Evans of raping her in a bathroom.
The case's race, class and gender elements provoked a national debate about the perceived privilege and out-of-control entitlement of elite male athletes on US university campuses.
But those assumptions were turned upside down when all charges against the three students were dropped by North Carolina's attorney general, who cited significant inconsistencies between the evidence and various accounts given by Mangum.
Durham, North Carolina, prosecutor Mike Nifong later resigned following an ethics trial investigating whether he had broken rules of professional conduct in the case.