Judge rejects OJ Simpson's bid for retrial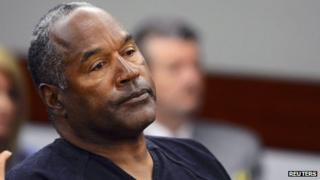 US ex-sports star OJ Simpson has lost his bid for a retrial over his armed robbery and kidnapping conviction.
Simpson, who was jailed for up to 33 years for the September 2007 incident, argued for a new trial on the grounds his lawyer had botched his defence.
However, a judge ruled that "all grounds in the petition lack merit and, consequently, are denied".
Simpson's lawyers said the 66-year-old was disappointed but would appeal against the verdict.
Simpson was jailed for between nine and 33 years for his attempts to take back photos and footballs he believed had been stolen from him.
He was accompanied by five other men when he seized the goods from memorabilia dealers at the Palace Station Hotel and Casino in Las Vegas.
Simpson says he should be given a new trial because his lawyer Yale Galanter had given him bad legal advice and failed to represent him effectively.
Mr Galanter rejected the claims. He denied approving Simpson's decision to retrieve the memorabilia, and told a court that Simpson knew his associates had guns when they went to the Nevada hotel.
He also denied failing to tell the former star NFL running back-turned-actor about plea-bargain offers.
Mr Galanter said he felt vindicated by the ruling.
"As OJ's lawyer and confidante, it was gut-wrenching for me to have to be in a position to defend my strategy and efforts on his behalf as his lawyer and testify against my client,'' Mr Galanter told The Associated Press news agency.
Simpson is facing at least another four years in prison.
His lawyer Patricia Palm told AP: "We're confident that when we get to the right court we'll get relief because he deserves relief, because he didn't get a fair trial.''
Simpson was famously acquitted of the murder of his former wife and her friend in Los Angeles in 1995.