Sacked US General Michael Carey 'drank on Russia trip'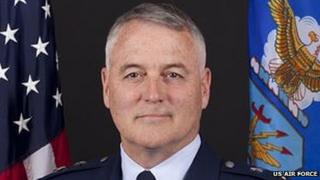 The general in charge of the US Air Force's long-range nuclear missiles was sacked for conduct "unbecoming of a gentleman" during a work trip to Russia in July, a report says.
The newly declassified document says Maj Gen Michael Carey drank too much and met "suspect" foreign women.
He could not recall significant events or was "untruthful", the report says.
Gen Carey's removal came days after the Navy sacked an admiral overseeing nuclear forces over illegal gambling.
It is one of several scandals to rattle the American military's nuclear establishment in recent months.
Forgetful?
Gen Carey, a two-star general in the 20th Air Force, was responsible for maintaining intercontinental ballistic missiles (ICBMs) at three bases across the US - a total of 450 missiles.
He is now special assistant to the commander of Air Force Space Command.
No details were given when he was removed in October.
The internal report by the Inspector General of the Air Force is based on interviews with the general and members of the US delegation to a nuclear security training exercise.
"Maj Gen Carey consumed alcoholic beverages to the extent that it impacted his conduct," the report says. It adds that this included briefings, banquets and other events.
It goes on: "Maj Gen Carey engaged in inappropriate or improper behaviour when he chose to meet up with and continued to associate with the foreign national women... especially given his own acknowledgement that the women were suspect."
He had met them at a restaurant and danced with one of them a day after, it says.
According to the report, during a flight layover in Zurich en route to Moscow "he appeared drunk and, in the public area, talked loudly about the importance of his position as commander of the only operational nuclear force in the world and that he saves the world from war every day".
During a tour of a monastery, the general was said to be slurring his words and interrupting the tour guide.
They later went to a restaurant where a Beatles tribute band was performing and the general kept pestering the translator to ask the group to let him sing with them.
Gen Carey then spotted the two women he had met the previous night and left the US delegation to sit with them.
The investigators interviewed Gen Carey, but he appeared to have forgotten much of what happened in Russia.
Their conclusion was the general "either had a poor recall of significant events, perhaps due to his alcohol consumption, or was untruthful during the interview".
The general had been rude to the Russian hosts and to members of the delegation, they said.
And he had complained his forces "suffered from low morale".
Gen Carey has made no comments about the report, which was the result of a Freedom of Information request.
Before being sacked, Gen Carey was in charge of 9,600 people at three operational wings, had served in operations Iraqi Freedom and Enduring Freedom and had received 13 major awards.
In October, two days before Gen Carey was sacked, US Navy Vice-Adm Tim Giardina was removed as deputy head of US Strategic Command.
He was accused of using counterfeit gambling chips of "a significant monetary amount" at an Iowa casino.
In August, a nuclear missile unit at Malstrom Air Force base in Montana failed a safety and security inspection, after which a senior security officer was relieved of duty.
In May, it was reported that 17 officers in charge of maintaining nuclear missiles were sidelined over safety violations at Minot Air Force base in North Dakota.