Obamacare exemption offered ahead of looming deadline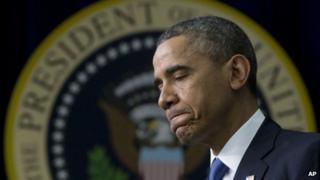 The Obama administration has said it will provide an exemption for those whose insurance plans were cancelled under his embattled healthcare law.
The "hardship exemption" will apply to roughly 500,000 people who lost their private plans under the law commonly known as Obamacare.
They will also be able to buy cheaper "catastrophic" plans offering minimal insurance coverage levels.
Those plans were previously available only to people under the age of 30.
Announced on Thursday night, the exemption comes just days before a 23 December deadline to purchase insurance coverage with benefits beginning on 1 January.
"This is a common-sense clarification of the law," Health and Human Services spokeswoman Joanne Peters said.
'Full panic mode'
The hardship exemption will free those who lost private insurance plans under Obamacare from tax penalties they would have faced were they not able to arrange new coverage.
The Obama administration will also expand to all a special bare bones "catastrophic" coverage plan previously created under the law for young adults.
The new exemption was said to have been proposed by a group of Democratic senators, but Republicans swiftly expressed dismay with the manoeuvre.
Republican congresswoman Marsha Blackburn called it a "holiday surprise" demonstrating the White House was in "full panic mode" ahead of the 23 December deadline.
President Barack Obama's flagship domestic achievement, the Patient Protection and Affordable Care Act, has had a troubled rollout.
The federal website has suffered debilitating glitches and performance problems since its 1 October launch.
It underwent a virtually top-to-bottom overhaul in October and November and has seen its performance improve, but enrolment numbers have continued to be lower than anticipated.
Political support, even within Mr Obama's Democratic party, waned amid the website's ongoing problems and revelations that insurance companies cancelled Americans' medical insurance policies because they did not meet the stricter conditions of the law.
That was despite the president's promise that people would be able to keep their existing plans.