Reagan press secretary Larry Speakes dies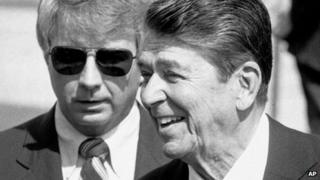 Larry Speakes, the former press secretary to President Ronald Reagan, has died.
Mr Speakes, 74, assumed the role in 1981 after then-acting press secretary James Brady was severely injured during an assassination attempt on Mr Reagan.
After resigning in 1987, Mr Speakes worked in the private sector before retiring in 2008.
He had reportedly suffered from Alzheimer's disease prior to his death.
Kenny Williams of the Cleveland Funeral Home said Mr Speakes died on Friday at home in Cleveland, Mississippi, where he had lived for the past few years.
Mr Speakes passed away in his sleep, Bolivar County Coroner Nate Brown told the Associated Press news agency.
After resigning from the Reagan administration in 1987, Mr Speakes worked for financial management firm Merrill Lynch in New York.
He later returned to Washington in 1988 and worked in public relations for communications company Northern Telecom and the US Postal Service.