Imelda Marcos aide sentenced for Monet painting sale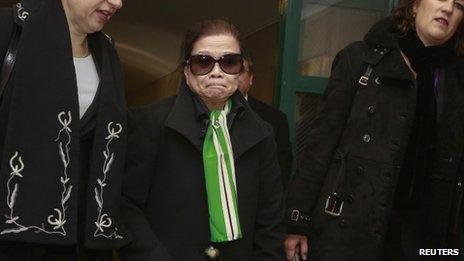 A former aide to Imelda Marcos has been sentenced in the US to up to six years in prison for conspiring to sell a Monet painting that disappeared after Mrs Marcos' husband Ferdinand was ousted as Philippine president.
Vilma Bautista, 75, was found guilty in November of conspiring to sell the $32m (£19.5m) painting to a London gallery.
The Philippine government later contended it owned the artwork.
Bautista was also ordered to pay $3.5m in taxes as part of her sentence.
The 1899 painting, from Monet's Water Lilies series, is said to have come into Bautista's possession following the fall of former President Ferdinand Marcos' government in 1986.
Imelda Marcos accumulated a vast collection of art and luxury objects during her husband's 20-year corrupt dictatorship.
But much of it disappeared after the 1986 People Power revolution that saw him removed from power.
"Bautista was found to be aware of and monitoring this campaign, even as she possessed some of the valuable works of art," the office said in November.
Four paintings - including two Monets - acquired by the Marcos family had ended up in her possession.
Using false documents, she successfully sold Claude Monet's Le Bassin aux Nymphease to a London gallery in 2010.
Lawyers for Bautista said she believed she retained the authority to sell the painting and that ownership resided with Mrs Marcos.
Official ownership of the painting is currently being determined in civil court.
Bautista was also convicted of document fraud and tax offences.