Two children injured in New Mexico middle school shooting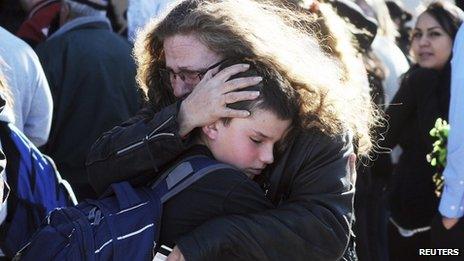 Two children have been injured after 12-year-old student opened fire at a middle school in Roswell, New Mexico.
Officials say the suspect is in custody and a 11-year-old boy and a 13-year-old girl were being treated at a hospital.
The shooting occurred about 08:00 local time (15:00 GMT) at Berrendo Middle School as classes started.
A teacher convinced the student, who allegedly carried the firearm in a instrument case, into dropping the weapon, Governor Susana Martinez said.
He was "quickly stopped by one staff member who walked right up to him and asked him to set down the firearm, which he did," Ms Martinez said.
University Medical Center in Lubbock, Texas, spokesman Eric Finley said the injured boy, initially reported as a 14-year-old, was flown there in critical condition, while the 13-year-old girl was in serious condition.
Hospital nurses believe the boy was the target of the shooting, he added.
Student Odiee Carranza said she was walking to the school gymnasium when she saw the 12-year-old boy run past her, pulling a gun from an instrument case and then firing at students inside the gymnasium.
"Then he shot up in the sky, then dropped the gun, and then some teacher grabbed the kid that had the gun," she said.
Odiee Carranza described the suspect, whose name was not being release by police, as a "smart kid and a nice kid".
Students were brought to a nearby shopping centre after the shooting to be reunited with their families.
Roswell superintendent Tom Burris said the school's faculty had responded appropriately on Tuesday.
"In the 10 seconds that transpired from the time of this thing starting until the teacher had control of the weapon, there was no cowardice," Mr Burris said. "There was protection for our kids. Everyone acted and did their duties today at Berrendo Middle School."
Police officials said investigators were still looking into a possible motive, but New Mexico State Police Chief Pete Kassetas said he wanted to assure residents police had the only individual responsible for the shooting in custody.
"I want to make sure the community knows there's really nobody else out there," Mr Kassetas said.
A family lawyer for the suspect confirmed he had been transferred to an Albuquerque psychiatric hospital following a hearing.
Lawyer Robert Gorence said the family would release a statement on Wednesday.