Toronto Mayor Rob Ford accused of ordering jail beating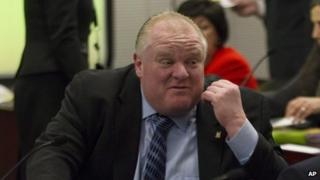 Toronto Mayor Rob Ford is being sued for allegedly conspiring to have a jail inmate beaten to keep him quiet about the politician's illicit actions.
Scott MacIntyre, former boyfriend of Mr Ford's sister, Kathy, is seeking $1m (£606,465) in damages.
He alleges that he was attacked in a Toronto jail in March 2012 on orders from Mr Ford.
The Canadian mayor, who admitted last November to having smoked crack cocaine, is running for re-election.
The lawsuit, filed on Wednesday, alleges Mr Ford plotted with Payman Aboodowleh, who coached football with Mr Ford, to have one of their former players beat Mr MacIntyre in prison.
'Spurious'
Mr MacIntyre says he was threatened with "dire consequences" if he revealed information related to Mr Ford's activities.
Mr Ford and Mr Aboodowleh also arranged for prison staff members to ensure "there was no supervision or surveillance of the area" where the incident occurred, the lawsuit alleges.
Ontario's Ministry of Correctional Services, which is responsible for the province's prisons, has also been named in the lawsuit.
Mr MacIntyre himself pleaded guilty to threatening Mr Ford following a January 2012 altercation.
Mr Ford's lawyer called the allegations "irresponsible and spurious" and "without fact or foundation" on Wednesday.
The scandal-engulfed city leader has brushed aside pressure to quit over his drugs confession and remains popular in some of Toronto's more conservative suburban areas.