Moses Farrow defends Woody Allen over abuse claims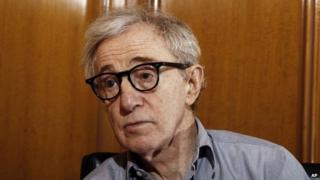 Woody Allen's adopted son has defended the film-maker over a claim he molested his adopted daughter in 1992.
Moses Farrow, 36, told People Magazine he believed their mother, actress Mia Farrow, had used the accusations to turn the children against him.
Dylan Farrow recently renewed the sexual abuse claim after speaking out in an open letter last week.
The authorities investigated her allegation at the time, but Mr Allen was not charged.
The film-maker has called the allegations "untrue and disgraceful" through his publicist.
'Vengeful'
Moses Farrow, one of the children Mr Allen and Ms Farrow adopted together, told the magazine his mother had "drummed it into me to hate my father for tearing apart the family and sexually molesting my sister".
"I see now that this was a vengeful way to pay him back for falling in love with Soon-Yi."
Mia Farrow and Mr Allen split in 1992 after she discovered he was having an affair with Soon-Yi Previn, Mia Farrow's adopted daughter with a former partner.
Mr Allen wed Ms Previn in 1997, and the two remain married.
Dylan Farrow told People Magazine her brother's comments were "such a betrayal to me and my whole family".
"My memories are the truth and they are mine and I will live with that for the rest of my life," she said, denying her mother had coached her to accuse Mr Allen.
She has previously said she decided to break her silence after two decades, when Mr Allen's latest film, Blue Jasmine, was nominated for an Oscar.
Mia Farrow has not directly responded to Moses' statements but tweeted: "I love my daughter. I will always protect her. A lot of ugliness is going to be aimed at me. But this is not about me, it's about her truth."
The New York Times, which originally published Dylan Farrow's open letter, said on Wednesday it may publish a response from Mr Allen.
A panel of psychologists, appointed by US prosecutors and the police at the time of the allegations, concluded that Dylan had not been molested.
The case caused controversy when a prosecutor later said there had been "probable cause" to charge Mr Allen, but he had chosen not to, in order to protect the child.