Texas executes female murderer Suzanne Basso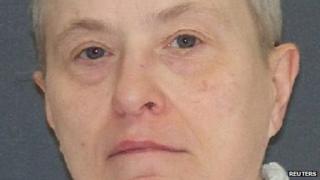 A woman convicted of murder in Texas has been put to death, only the 14th time a female has been executed in the US in nearly four decades.
Suzanne Basso, 59, was pronounced dead from lethal injection at 18:26 local time Wednesday (00:26 GMT Thursday).
She was found guilty of the 1998 torture and killing of a mentally impaired man she had promised to marry.
Hours earlier, the Supreme Court rejected her lawyer's appeal that she was not mentally competent.
Basso reportedly did not make a final statement, and smiled at two friends attending the execution.
An Associated Press journalist said the condemned woman appeared to be about to cry.
'Heinous killer'
After the lethal dose of pentobarbital was administered, she began snoring, then her breathing stopped.
She was declared dead within 11 minutes of the injection.
Basso was sentenced to death for luring Louis Musso, 59, from the state of New Jersey and killing him in an effort to collect his insurance and benefits.
His battered body, washed with bleach, was found in a ditch outside Houston, Texas.
Musso was burned with cigarettes and viciously beaten by Basso and five accomplices.
But Basso was the only one of the six defendants who received the death penalty.
In a Supreme Court brief, Basso's lawyer Winston Cochran said his client had been unfairly singled out.
"She was grossly obese, a sour personality, unattractive," he was quoted by the AFP news agency as saying.
"Right from the beginning, they said we're going to go with the theory that she's the ring leader."
But Basso's own daughter was among witnesses who testified against her at trial, telling of physical and sexual abuse at the hands of her mother.
"Suzanne ran the show for sure," Colleen Barnett, the former assistant district attorney who prosecuted Basso, told the Associated Press.
"She was the one in charge. She directed them. She wanted the money. She's a heinous killer."
Women make up about 2% of condemned US inmates, with only 60 out of 3,100 on death row.
Nearly 1,400 men have been put to death since the US Supreme Court reinstated the death penalty in 1976.