Woody Allen denies abusing his daughter Dylan Farrow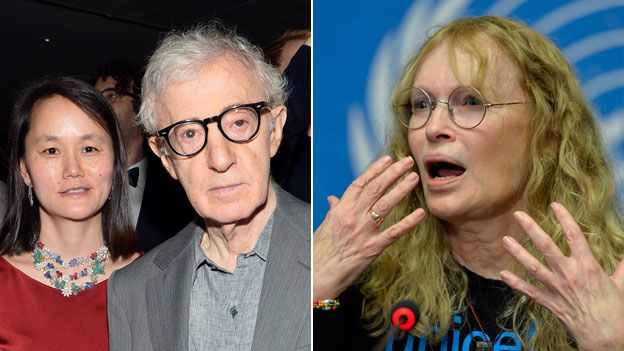 Woody Allen has repeated his denial that he molested his adopted daughter, in a letter to the New York Times.
The filmmaker said Dylan Farrow had been coached to make the claim by his estranged former partner, Mia Farrow.
Mr Allen, 78, wrote in the newspaper that Dylan had been "used as a pawn for revenge" against him by her mother.
Dylan Farrow wrote last week in the New York Times that Mr Allen abused her in 1992 when she was seven years old in an attic at Mia Farrow's Connecticut home.
Mr Allen alleges that Mia Farrow orchestrated the "smear" after discovering earlier in the same year that he was having an affair with her other adopted daughter from a previous partner.
The Hollywood legend began a relationship with Soon-Yi Previn when she was about 19. They wed in 1997 and remain married.
"Not that I doubt Dylan hasn't come to believe she's been molested," Mr Allen wrote, "but if from the age of 7 a vulnerable child is taught by a strong mother to hate her father because he is a monster who abused her, is it so inconceivable that after many years of this indoctrination the image of me Mia wanted to establish had taken root?"
He adds: "Of course, I did not molest Dylan. I loved her and hope one day she will grasp how she has been cheated out of having a loving father and exploited by a mother more interested in her own festering anger than her daughter's well-being."
She has previously said she decided to break her silence after two decades when Mr Allen's latest film, Blue Jasmine, was nominated for an Oscar.
But Mr Allen said in his rebuttal that her allegation includes "creative flourishes that seem to have magically appeared during our 21-year estrangement".
He wrote that he always kept away from the cramped attic because he suffers from claustrophobia.
"When I was in the blissful early stages of a happy new relationship with the woman I'd go on to marry," he wrote, "that I would pick this moment in time to embark on a career as a child molester should seem to the most skeptical mind highly unlikely."
He points out that a panel of psychologists, appointed by US prosecutors, concluded Dylan had not been molested.
Mr Allen also wrote that he had passed a lie-detector test over the matter, while Mia Farrow, now 68, declined to take one.
He said the article would be "my final word on this entire matter", concluding: "Enough people have been hurt."
Mia Farrow has six children from her marriage to conductor Andre Previn. Of these, three were adopted: Vietnamese sisters Lark Song and Daisy and Korean-born Soon-Yi.
The couple divorced in 1979 and the following year Farrow began a relationship with Woody Allen. During this time, she went on to adopt two more children: First Moses, also known as Misha, and then Dylan, also known as Eliza or Malone. Allen became their legal father.
In 1987, the couple had a child of their own, Satchel, now known as Ronan. However, Farrow has since said that Ronan was "possibly" the son of her first husband Frank Sinatra.
In 1992, Mia Farrow found nude pictures of Soon-Yi in Allen's possession and when it became clear the pair were in a relationship, a bitter custody battle ensued over Moses, Dylan and Ronan.
Allen and Soon-Yi married in 1997 and have two adopted daughters. Mia Farrow also went on to adopt a further five children.
Related Internet Links
The BBC is not responsible for the content of external sites.