Heart attack and respiratory failure in Maersk deaths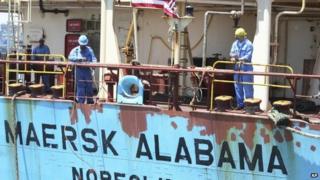 Two ex-Navy Seals found dead last week aboard the ship made famous in the film Captain Phillips died of respiratory failure after suspected heart attacks, Seychelles police have said.
Officials suggested drug use could have been a factor, as a syringe and traces of heroin were found in the cabin, the Associated Press news agency reported.
The Maersk Alabama was hijacked in 2009 by Somali pirates and rescued by the US Navy.
The men were security contractors.
Mark Daniel Kennedy, 43, and Jeffrey Keith Reynolds, 44, were found dead on 18 February as the ship was berthed in Port Victoria, the capital of the Indian Ocean island nation of Seychelles.
Both men were employed by the US-based Trident Group, which was founded in 2000 by former US Navy Seal commandos and recruits former special forces operatives.
Seychelles police said samples were being sent to nearby Mauritius for analysis to establish if the men had consumed "a substance" that could have caused a heart attack or respiratory failure.
Last week, Maersk Line spokesman Kevin Speers said the firm had seen a police report mentioning the drugs and paraphernalia found.
The Maersk Alabama has left Port Victoria, the company said, after an on-board investigation into the deaths was completed.