Missouri executes Michael Taylor for 1989 murder of girl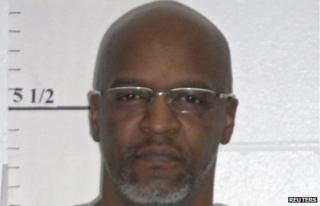 A Missouri man who abducted, raped and murdered a 15-year-old schoolgirl has been executed after the US Supreme Court dismissed a last-minute appeal.
Michael Taylor, 47, who admitted killing Ann Harrison in the Kansas City area in 1989, died by lethal injection.
His lawyers argued that the drugs used for the injection might subject him to a slow and tortuous death.
The execution comes amid controversy over the chemicals being used to give US death row inmates lethal injections.
Ann Harrison was waiting for the school bus near her home when she was abducted by Taylor and his accomplice, Roderick Nunley.
'Heartfelt remorse'
The men put her in a car, took her to a home, raped her and stabbed her to death as she begged for her life.
Nunley is also on death row.
Ann's father and two of her uncles witnessed Wednesday's execution.
Just hours beforehand, Taylor said in a phone conversation with the Kansas City Star that he had written a letter for Ann's parents expressing "my sincerest apology and heartfelt remorse".
He made no final statement, though he reportedly mouthed silent words to his parents.
Taylor was pronounced dead at 12:10 (06:10 GMT) in the state prison at Bonne Terre.
An Associated Press reporter who was present said there were no obvious signs of distress.
It was Missouri's fourth execution by lethal injection in as many months.
The state obtained the powerful sedative used in the execution, pentobarbital, from a compounding pharmacy, which prepares specific drugs to order. It chose to remain anonymous.
Such outlets are not regulated by the federal government, which means their safety and efficacy are unverified.
Another compounding pharmacy, in Oklahoma, last week agreed not to provide the execution drug after Taylor's lawyers sued.
Since European manufacturers stopped providing pentobarbital for executions, several US states are running low on execution chemicals and turning to new suppliers or products that have not been widely approved.
In addition to challenging the drug used, Taylor's lawyers objected to the state executing inmates before appeals were complete.
Missouri Governor Jay Nixon had rejected a clemency request for Taylor.