Arizona Governor Brewer weighs 'anti-gay' bill SB 1062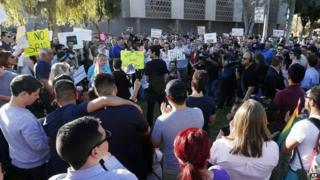 Arizona's governor is meeting opponents and supporters of a bill that would allow business owners to refuse service to gay people on religious grounds.
Republican Jan Brewer has till Saturday to decide whether to sign or veto the measure, which has prompted protests.
Supporters argue the legislation protects First Amendment rights for expression of religious beliefs.
Similar bills have been introduced in seven other US states, but Arizona is the only one to pass it.
Ms Brewer returned to Arizona on Tuesday following a five-day trip to Washington DC, during which time her state became the centre of a national gay rights debate.
Republicans recant
The legislation, SB 1062, was passed on Thursday last week despite strong objections by state Democrats, who said it would clearly allow discrimination against gays.
All but three Republicans in the state legislature voted in favour of the proposal at the time.
But some Republican state senators who voted for the bill have since called for a veto.
"We were uncomfortable with it to start with and went along with it thinking it was good for the caucus," Senator Steve Pierce told the Associated Press news agency.
"We really didn't want to vote for it. But we made a mistake, and now we're trying to do what's right and correct it."
Ms Brewer, a conservative, has faced pressure from the business community - including corporations such as Intel, Yelp and Marriott - to veto the bill, particularly to avoid distracting from the state's hosting of the 2015 Super Bowl.
"I can assure you that this proposed legislation is causing tremendous concerns for our employees, particularly those who live and work in Arizona," American Airlines chief executive officer Doug Parker wrote in a letter to Ms Brewer.
John Kerry intervenes
But the state leader has also reportedly been pushed to sign it by social conservatives who supported the bill, framing it as only a modest update on the state's existing religious freedom law.
Secretary of State John Kerry on Wednesday urged Ms Brewer to "make the right decision" and veto the bill.
But he predicted that even if she does sign the legislation, it would be struck down by the US Supreme Court.
He was responding to a question about a new law in Uganda that punishes gay sex with up to life in prison.