Briton who gave birth on NYC street meets Good Samaritan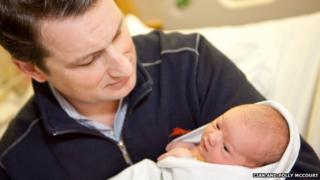 A British woman who gave birth on a New York City street after rushing out of her flat as she went into labour on Monday has been reunited with the Good Samaritan who came to her aid.
Isabel Williams, 20, visited new parents Cian and Polly McCourt at their Manhattan flat on Thursday morning.
Ms Williams lent her coat to keep Ms McCourt and newborn daughter Ila warm until emergency crews arrived.
The McCourts gave Ila the middle name Isabel.
Calling Ms Williams a "humble girl", Ms McCourt told the BBC she wanted to "apologise for ruining her coat, and to thank her very much".
"She gave up practically everything she had on her back," she said of Ms Williams, including her coat, jumper and a shirt on a cold winter day.
'A miracle'
On Monday Ms McCourt, 39, left her Upper East Side home and tried to hail a cab, then realised her baby would not wait.
The former Black Bourton, Oxfordshire, resident gave birth on the pavement at the junction of East 68th Street and 3rd Ave.
Mr McCourt, who works for a law firm in New York, was stuck in traffic.
When he arrived, he saw a crowd on the street and "guessed" the commotion involved his wife because he could not reach her on the phone.
Mr McCourt, 40, described going from "terror to relief" when he saw his wife and new baby were healthy.
"He said, 'Don't ever do that to me again,'" Ms McCourt joked of her husband. "We had to have a laugh about it."
The couple were already parents to two other children, Conor, six, and Adele, four.
As for naming their new daughter after Ms Williams, Ms McCourt said they had been undecided on a middle name and Mr McCourt liked Isabel.
"It was better than naming her 3rd Avenue," he said with a laugh.