Kerry Kennedy acquitted in drug-driving case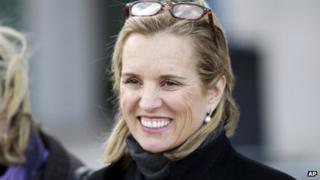 Kerry Kennedy, the daughter of late Senator Robert Kennedy, has been acquitted of drug-driving in New York.
Ms Kennedy, 54, could have faced up to a year in jail if convicted of the misdemeanour offence.
The human-rights activist was arrested after her car swerved into a truck on a highway in July 2012, an incident she said she could not remember.
She accidentally took a sleeping pill before the journey, her lawyers said, mistaking it for other medication.
Failed sobriety tests
"I'm happy justice was done," Ms Kennedy, who is the ex-wife of New York Governor Andrew Cuomo, said following Friday's verdict.
Ms Kennedy took a sleeping drug unintentionally - mistaking it for her daily thyroid medication - before driving to a local gym, her defence team told the court.
Ms Kennedy's Lexus blew one of its tyres as it hit a truck. She was found disoriented and slumped at the steering wheel, witnesses said.
Police have said she failed several sobriety tests at the scene, but she passed tests at a police station a few hours later.
Prosecutors argued that Ms Kennedy had realised she was impaired and should have stopped driving.
They said she was "responsible for the chain of events".
Ms Kennedy's lawyers said it had been an accident, not a crime.
"If I realised I was impaired, I would have pulled over," she testified during her trial.
Ms Kennedy's lawyer told reporters after the verdict: "The [district attorney] never should have brought this case in the first place."
"Kerry Kennedy has the resources [to defend herself]," he added. "What about the person who doesn't?"
Ms Kennedy is one of 11 children of Senator Kennedy, who was assassinated in Los Angeles during his campaign for US president in 1968.