Two killed in Israeli air strike in northern Gaza Strip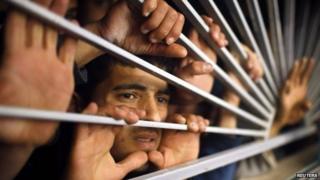 Two Palestinians have been killed in an Israeli air strike in northern Gaza.
An Israeli military spokesman said its aircraft targeted "terrorists preparing to launch rockets" at civilian communities in southern Israel.
Palestinian medics said one man, Musaad al-Zaneen, died immediately after the raid on farmland near the town of Beit Hanoun while the second, Sharif Nasser, later died from his injuries.
There were conflicting reports about whether one or both had been militants.
Israeli media had earlier reported a failed rocket attack. The projectile apparently fell short of the border and landed in the Gaza Strip.