Ukraine: Growing war of words between Russia and US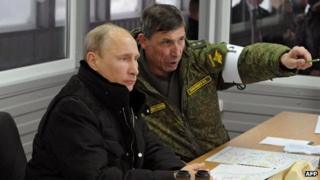 The US is keen to label Russia's action an "invasion" but as yet no one has been shot by the troops, and it is still time for a war of words - on friend as well as foe, as it happens.
US President Barack Obama acknowledged that some saw Russian President Vladimir Putin's news conference as signalling a pause for reflection, but said the facts on the ground were different.
He said Putin could "throw words around" but he didn't respect a people's sovereign right.
Obama, himself no mean hand at the word-chucking business, may be frustrated that his allies aren't prepared to lob anything more substantive that a strong adjective.
It was Secretary of State John Kerry who really upped the rhetoric - accusing the Russians of hiding behind falsehood, and promising that democracy would "never be stolen by bullets or invasion".
But what really struck me was his contention that if Russia continued, US partners would have "absolutely no choice" but to join them in expanding diplomatic, political and economic isolation.
It is far from clear that America's European allies would agree with that assessment.
It suggests the pressure from this administration isn't all on Russia, and that European Union countries are getting quite a few nagging phone calls, urging them to step up to the plate.