German home-school family will not be deported from US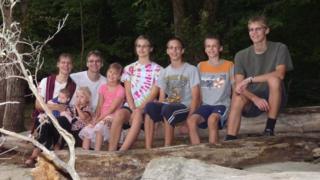 A family who left Germany so they could home-school their children in the US will not be deported despite being denied asylum, officials say.
US immigration officials confirmed the Romeike family have been granted "prosecutorial discretion".
In Germany, parents who refuse to send their children to state-approved schools face fines, imprisonment and the removal of the children.
The family sought asylum in the US, saying they feared persecution at home.
'Very appreciative'
Immigration officials rejected their bid and on Monday, the US Supreme Court declined to hear their appeal in the case.
But on Tuesday, the Home School Legal Defense Association (HSLDA), which was representing the Romeikes, said the family of nine had been granted "indefinite deferred action" status, lawyer Michael Donnelly told the BBC.
"We are just very appreciative," Mr Donnelly said. "We think this was the right decision."
"US Immigration and Customs Enforcement (ICE) exercises discretion on a case by case basis, as necessary to focus resources on our stated priorities," agency spokesman Bryan Cox told the BBC in a statement.
"After conducting a comprehensive review of the Romeike family's case, ICE has chosen to exercise prosecutorial discretion in this matter."
In 2008, Uwe and Hanalore Romeike left the German state of Baden-Wuerttemberg for the US state of Tennessee, fearing they would be sent to jail or lose custody of their seven children if they continued to home-school them.
Uwe, the father, applied for asylum in the US, arguing his family faced persecution in Germany, where almost all children are required to attend schools approved by the German government.
A Tennessee judge initially granted the asylum request, but an appeals court overturned that ruling.
A hearing at the US Supreme Court was the Romeikes' last hope for legal asylum.
The family, who profess to be evangelical Christians, have won the support of many in the well-organised US Christian home-school community.
An online petition asking the government to grant the family asylum was signed by more than 127,000 people.
Decision could be revoked
Some US legal analysts say it is no surprise the asylum request was denied.
"Germany is a democratic country and it chooses to make attendance in schools mandatory. It offers many choices of school - Christian, Jewish, Muslim, private, public - every imaginable sort," Professor David Abraham, an expert on immigration and citizenship law at the University of Miami School of Law, told the BBC in November.
"What they can't call persecution is the obligation to attend school with other children. That's an important social value that the German legislature has adopted."
Following Tuesday's decision, Mr Abraham added that US immigration officials were focusing their attention on deporting criminals.
"Getting this family out of the United States is not a high priority," he said.
Mr Donnelly said that while the deferred status enabling the Romeikes to remain in the US could be revoked, the family has no reason to believe they will be deported for at least the remainder of the Obama administration. President Barack Obama leaves office in January 2017.
"As long as we can live at peace here we are happy," Mr Romeike said in a statement provided to the Associated Press news agency. "We have always been ready to go wherever the Lord would lead us."