US Army sex assault prosecutor suspended for 'groping'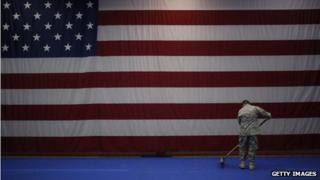 A top prosecutor of sexual assault cases in the US Army has been accused of groping a female colleague, military officials say.
Lt Col Joseph Morse has been suspended amid allegations he targeted the woman at a 2011 sexual assault legal conference in Virginia.
Meanwhile, a bill to overhaul the military's handling of such cases stalled in the US Senate.
The Army has seen a spate of sexual assault cases in recent years.
Earlier on Thursday US Army Brig Gen Jeffrey Sinclair, who is accused of sexual assault, pleaded guilty to lesser charges in a move his lawyer said would help his chances at trial.
The allegations against Col Morse were first reported by the Stars and Stripes newspaper and were later confirmed by military officials to the BBC.
Col Morse supervises nearly two dozen Army prosecutors who handle sexual assault and domestic abuse cases.
The unnamed female Army lawyer alleges that Col Morse attempted to grope and kiss her in a hotel room.
The incident was initially reported in February and Col Morse is said to have been suspended soon thereafter.
No charges have yet been filed, though an investigation is under way, say US military officials.
Earlier on Thursday, a bill that sought to remove prosecution of sexual assault cases from the military chain of command failed to progress in the US Senate.
Democratic Senator Kirsten Gillibrand's proposal could only muster 55 votes, five short of the threshold needed to go forward.
Her bill would have transferred the authority to prosecute sex assault cases to an independent military prosecutor.
The Senate later voted unanimously to move forward a separate reform measure that would not go as far as the one proposed by Ms Gillibrand.
There has been a sizeable increase in the number of sexual assaults reported in the US military in recent years.
Pentagon data indicates the rate jumped 60% in fiscal year 2013 alone, with an estimated 5,400 cases reported.
Military officials have argued that such a surge indicates victims are more confident reporting such crimes because of campaigns to raise awareness of the issue.