Immigrant detention centre hunger strike in fourth day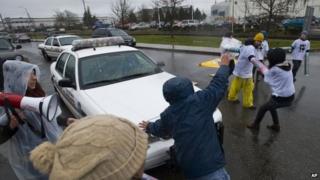 About 150 people are on the fourth day of a hunger strike at an immigration detention centre in the US state of Washington, officials say.
Supporters say the detainees are protesting over their treatment at the facility as well as calling for an end to deportations.
The Northwest Detention Center in Tacoma holds about 1,300 people being investigated for possible deportation.
At one point, activists say, 750 people refused to eat as part of the strike.
US immigration officials have said any detainee who refuses food for 72 hours will be referred for medical evaluation and possible treatment.
The facility is privately owned and operated by the GEO Group, a government contractor.
Activists who back the striking immigrants say they are seeking better food and treatment.
They are also calling for wages higher than $1 (£0.60) a day for work carried out at the detention centre.
Supporters also say they have received reports that detainees are being intimidated for participating in the strike.
Lawyer Sandy Restrepo says the wife of a detainee talked briefly with her husband on Sunday, who said he and others had been confined to one cell without toilet breaks and could not move around.
US Immigration and Customs Enforcement spokesman Andrew Munoz told the Associated Press he could not immediately comment on those reports.
A lockdown was announced on Sunday as a precaution in areas holding violent offenders, but it has since been lifted, immigration officials said.
There are an estimated 11 million undocumented immigrants living in the US.