Republican wins crucial Florida Congressional race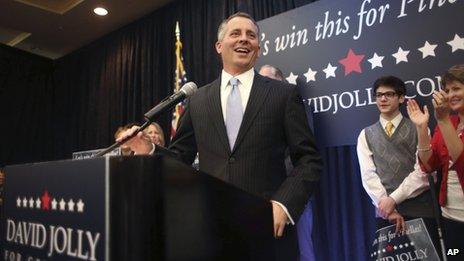 A Florida Republican has won a much-coveted congressional race which is being seen as an important test ahead of this year's US midterm elections.
David Jolly narrowly fought off a well-funded campaign by Democrat Alex Sink in the Tampa-area vote.
Mr Jolly had railed against the Obama healthcare law, suggesting it will be a major issue in November's elections.
High-profile politicians, including Bill Clinton and Paul Ryan, stumped for the candidates before Tuesday's poll.
Mr Jolly - who took 48.5% of the vote - will replace long-serving Republican Congressman CW Bill Young, who died of cancer in October.
The special election was held in the congressional district where US President Barack Obama's healthcare overhaul was first tested.
The Patient Protection and Affordable Care Act has since been plagued by technical glitches and sluggish enrolment numbers, resulting in a glut of bad press for the US leader and fellow Democrats.
Mr Jolly, 41, campaigned on repealing the healthcare law - nicknamed Obamacare - while Ms Sink, 65, pledged to "keep what's right and fix what's wrong" with the legislation.
The battle for the 13th District seat was viewed largely as a precursor to the forthcoming national fight over which political party will control Congress for the final two years of Mr Obama's presidency.
The House of Representatives is expected to remain under Republican control, but only a six-seat swing in the Senate is required to wrestle control from the Democrats.
Mr Jolly's win means Republicans now hold a 233-199 seat advantage in the House of Representatives.
More than $11m (£6.6m) in campaign funds were pumped into the Florida race for adverts, phone calls and mailings.
"I have very good news tonight," Mr Jolly joked to his supporters in his victory speech on Tuesday evening. "No more commercials."