Eric Holder to push for shorter US drug sentences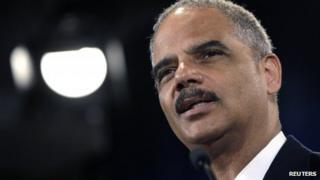 US Attorney General Eric Holder is supporting a proposal to shorten prison sentences for most drug dealers.
He backed the policy while testifying before the US Sentencing Commission, which made the proposal in January.
The move to lower guideline penalties for specific drug crimes is an effort to rein in inflated federal prison costs.
The US has almost a quarter of the world's prison population - one in every 99 Americans is behind bars.
Under the proposal, the harshest penalties would be reserved for dangerous and violent criminals.
"This over-reliance on incarceration is not just financially unsustainable, it comes with human and moral costs that are impossible to calculate," Mr Holder said, according to advance testimony obtained by the Associated Press news agency.
Mr Holder's appearance before the commission on Thursday is part of a broader push for revised federal sentencing policies.
In August, he directed prosecutors to stop charging many nonviolent drug offenders with offences carrying mandatory minimum sentences.
The US Sentencing Commission in January proposed altering guidelines altogether to shorten penalties for many drug dealing crimes.
That proposal would reduce the average sentence of a drug trafficker by 11 months.
It would also shrink the federal prison population by 6,550 inmates over five years, the justice department said.
It estimates that 70% of drug dealing offenders would be affected by the change.
The proposal is not expected to be voted on until April at the earliest.