South by Southwest: Arrest in deadly vehicle crash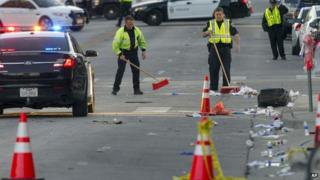 Police have arrested a man suspected of driving through a pedestrian area at the South by Southwest festival, killing two and injuring 23.
Rashad Charjuan Owens, 21, will be charged with two counts of murder and 23 of assault, Austin officials said.
Police said the driver fled as they tried to stop him for drink driving and driving through a barricade.
The yearly festival in Texas draws large crowds and features new music, technology and film.
The driver of the vehicle hit multiple people on a street turned into a pedestrian walkway after midnight on Thursday, then sped down the street, hitting and killing a man from the Netherlands on a bicycle and an Austin woman on a moped.
Austin Police Chief Art Acevedo said he believed the driver was so intent on evading police that he wilfully drove into the crowd.
"It's clear for me from his actions, from what I've seen, that this is an individual who showed no regard for the human beings that he ploughed through in his attempt to get away," Mr Acevedo said