No charges for Connecticut teacher who mistakenly shot son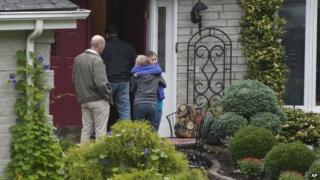 A popular Connecticut teacher who shot dead a masked knife-wielding intruder who turned out to be his adoptive son will not be charged, police say.
State's Attorney Stephen Sedensky said Jeffrey Giuliano was defending himself.
It is still unclear why his 15-year-old son, Tyler, tried to break into his aunt's home next door and walked towards his father with a knife.
A family lawyer said at the time of the shooting on 27 September 2012 that Mr Giuliano was "devastated".
State police said Mr Giuliano went outside his home in New Fairfield with a gun, after his sister, who lived next door, called to say someone was trying to break into her house.
He saw a masked person holding a knife come toward him in a threatening manner and shot him several times.
Mr Giuliano only found afterwards that it was Tyler.
On Friday, Mr Sedensky said Mr Guiliano had believed the person was holding a gun, and "reasonably believed that [the person] presented him with the threat of imminent death or great bodily harm".
"It would not have been possible for Giuliano to know whether he could retreat with complete safety to avoid shooting the subject," the state's attorney wrote.
The family, who have three other children, adopted the 15-year-old and his sister four years ago.
According to the family lawyer Gene Zingaro, the children's biological father was being sent to prison.
Mr Zingaro said Mr Giuliano's family has "literally hundreds of questions as to what Tyler was doing".
"Those questions will probably go unanswered forever," Mr Zingaro said in October.