Plea deal in US Gen Sinclair sex crimes case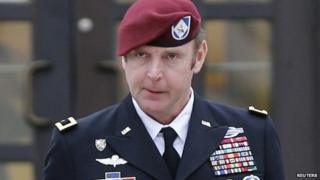 A US Army general accused of sex crimes has pleaded guilty to lesser counts, as prosecutors drop the most serious charges against him.
The deal was reached after a military judge said prosecutors had improperly pushed ahead with the trial of Brig Gen Jeffrey Sinclair, 51.
He has admitted having an affair with a female captain but denied sexually assaulting and threatening her.
Gen Sinclair is expected to receive a limited sentence under the deal.
The US military has been under increasing pressure to curb what the Pentagon has called an epidemic of sexual misconduct within its ranks.
New plea deal
Lawyers for Gen Sinclair said on Monday that prosecutors would drop the sexual assault charges and two other counts that could have required him to register as a sex offender.
The former deputy commander of the elite 82nd Airborne division pleaded guilty to the remaining charges, including abusing a government credit card while travelling to visit his mistress.
Prosecutors had alleged Gen Sinclair twice forced the female captain to perform oral sex and threatened her family with death if she ever told anyone about their affair.
"I failed her as a leader and as a mentor and caused her harm to her emotional state," Gen Sinclair reportedly told the court.
But last week, Judge Col James Pohl said he had found evidence in newly disclosed emails that senior military officers had improperly influenced prosecutors' decision to reject a lenient plea deal earlier in the case.
Col Pohl gave the defence another chance to strike a plea deal with a new set of Army officials.
The new deal is likely to include a sentencing agreement less severe than the maximum penalties of 15 years in prison and dismissal from the Army.
Gen Sinclair may also face additional administrative penalties from the Army, which could force him to retire at reduced rank.
He previously pleaded guilty to having improper relationships with three subordinates, including his accuser, as well as adultery, which is a crime in the military.